The Stimhack Echo Chamber is back, with further calibration testing of the Corp side of Sovereign Sight! Something Something Urban Renewal.
Re-live those 2/10 Runner moments with our Runner side review.
Asa Group
---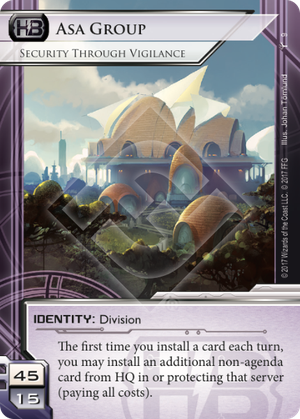 Theo
This identity is great. It's a lot of raw efficiency every turn and crucially the cards and strategies that let you make the most of it are the ones you already wanted to play. It works nicely with Ultraviolet Clearance, Advanced Assembly Lines, Team Sponsorship and (the big one!) Estelle Moon. In some ways you can think of it as a replacement for Engineering the Future, but it's a bit more complicated than that since it's not always easy to get the effect to trigger. You won't always want to install ice in front of your install, and so to get consistent value out of this you'll want to play some upgrades. Luckily there are quite a few good options for this, including Breaker Bay Grid and the new Calibration Testing – which also have great synergy with each other! Right now HB asset spam decks are being played out of Cerebral Imaging for access to Clearances, and CI still has the advantage of letting you hold lots of cards in your hand for Lakshmi Smartfabrics, but the fact that CI doesn't provide any economic benefit on its own should not be underestimated. The five or eight clicks Asa Group might gain you over the course of the game are not to be sniffed at. There's definitely a deck here and I think it will be very strong.
FightingWalloon
If ETF was Kate in Purple, this ID is Hayley in Purple. This ID is also more on-theme for HB than ETF was. Click efficiency is the hallmark of HB. Once CI gets the nerfing nearly everyone expects, this will be the go-to purple ID for a long time.
TheBigBoy
4/10
FoilFlaws
The second best HB ID… but it's a distant second. There's good builds in this ID but they are not better than similar builds in CI. More support or a MWL change is needed for this ID to shine but don't forget about it like you've all forgotten about The Foundry.
SimonMoon
I'm a lot more down on this ID than most people, but I will start by saying outside of CI it is in competition for which identity you would play an HB deck out of, but the ability to play VLC and UVC is still miles better. There are two components of evaluating this ID, and the first is to treat it as an Econ ability and think about how often it will trigger (and how hard it is to build around / valuable to build around it is). The second is to see what sorts of special interactions you can do that allow its ability to be way more valuable than a normal click (the same way in which Biotic is primarily used to fast advance agendas because the fourth click on a turn when you are scoring an agenda is massively more valuable than the third). The second is easier to answer because the answer is that there are not really a good use (Calibration testing turns into a 3 cost Biotic Labor that doesn't trigger Jeeves, is three influence, and can be trashed for two credits, which is not good).
The generic econ question however is worthy of further discussion. Let's take a classic shell such as Foodcoats to ask ourselves what sort of value would we be getting out of the ability if we were to play it in this deck. Early on it is very common to try and install and ice a campaign, where this ability gains you an early click which is very valuable (allowing you an extra draw to hit ice or a campaign or an extra credit to rez an Ice). However, as the game progresses the standard play pattern was to take two credits and install one card because you wanted to get value from your campaigns and slowly build up a board. This doesn't convert to Asa very well (you would alternate between take three credits and install 2 take 2 to use all your mandatory draws) which is already half value of ETF (and 50% worse is A LOT WORSE). On top of that, this only relevantly triggers if you are installing both things in the remote (installing 2 things on the same central is extremely uncommon), and there is a limit on how much stuff you can install in the remote. You might over the course of the game install 3 campaigns, 3 ice, 3 agendas, 3 upgrades in the remote, or 12 cards which means at most you ID ability is saving you 6 clicks. 6 clicks is simply not very many, especially when a lot of them are probably going to turn into clicking for a credit. I will say that it is true that the early clicks are more valuable than the later one, and are the point in time were you are most likely to get them.
Now, this example was a bit of a stretch because key Foodcoats cards are not legal anymore and the deck was not designed for Asa, but I think it does illustrate some of the concerns I have with how you need to build around Asa to get value (as a deck which has about as many remote installables as you can get was getting very limited value out of it). To get value out of Asa you need lots of things to install in the same remote, meaning lots of upgrades, and you need econ that pays off quick because you want your turns to look like draw 1, install 2, take 1 (which notably ignores the need to install things on centrals were you are unlikely to be able to trigger Asa for value). It is simply deceptively hard to build a deck were you are getting significant value out of Asa.
Still, one thing gives Asa hope and that is that outside of CI being able to use VLC and UVC, HB is full of garbage ID's so it only has to beat out Architects of Tomorrow and Seidr which are not terribly strong. (For reference, I think Asa from a pure power level is a lot weaker than stuff like Spark or Building a Better World which are not widely played ID's in their faction).
CrushU
Hayley's gone Corporate. Hard to evaluate, much like Hayley. I don't know of any current deck archetypes that would like this particular effect; It's very rare to actually want to build into the same server. It *does* enable IAA plays that install an ICE protecting it, which I think is honestly the best thing you can probably do with this. The problem with that is that 5-advancement agendas are *currently* not very good. Yet another card that could be good with the right support.
Miek
At first it seems like Asa to ETF is Hayley to Kate, which means that time will allow Asa to be super competitive. Unfortunately the double restrictions on Asa (no agendas, same server) while understandable severely limit its ability to gain value out of this. I think this is a better ID than Seidr and AoT, but I don't think its quite able to fill the role of "what HB needs to be good" (outside of the ridiculous CI world).
tvaduva
While this outstanding panel have brought up great points, I want to clarify a few things. While it does have a restriction on the second card installed in the same server (the triggered ability), there is no such restriction on the first card. So you can install a 3/2 agenda with your first click, then Calibration Testing and score out that turn (partially mitigating it's low trash cost). Since you're already limited to one agenda per server, this only limits some tricks like using Advanced Assembly Lines to install an agenda on the runners turn. You could also install an upgrade in the root of a central server, and trigger the ability to install an ice (you cannot install two upgrades on central because they have to be installed in the "root" of the server). This is actually a fairly flexible identity. I think it would really shine as a rush archetype, where you can install one ice and another ice or upgrade, then one of the many playable 4/2 agendas and advance it once, and even Shaper with SMC and Stimhack will have a hard time getting in.
Ikawah Project
---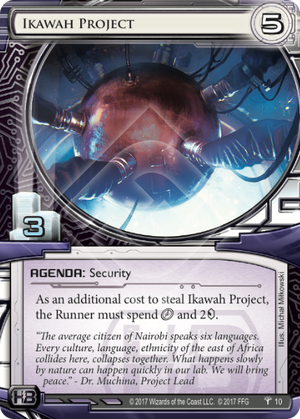 Whiteblade111
Ikawah Project looks to be a fairly solid defensive agenda. The click and credit tax is not effective off a random access, the real power of this agenda lies in engineering a scenario in which it cannot be stolen. In a remote with Ash or Strongbox this looks to be hard to steal. It also makes clicking through Fairchild 3.0's harder on the runner. I can see this slotting into Architects of Tomorrow or any potential glacier builds in Asa group. Most of the CI builds are going to want Elective Upgrades for the fast advance potential.
FightingWalloon
This agenda does not feel nearly as strong as a defensive agenda as Obokata or Global Food Initiative. In combination with Mason Bellamy, you can generate a board state that makes this impossible to steal without a Film Critic, but I don't think the defensive qualities of this agenda are enough to make it more appealing than a GFI. In a deck where you can't run GFI and are going to need to score a 5/3, something like Elective Upgrades helps advance your win condition much more than this agenda does. It is an interesting agenda, however, and will likely be featured in decks that want to run Fairchild 3.0 as their restricted card.
TheBigBoy
4/10
Sanjay
I like how this card interacts with Seidr. I like how this card interacts with Gang Sign. I like how this card interacts with GFI on the Most Wanted List. I could do without how it interacts with Load Testing and MCA Austerity Policy.
FoilFlaws
Another piece of a click taxing HB build. Self protection is good but I don't think this protect itself enough without other click taxing. I think this needs a lot of testing to be sure of its place in the meta.
CrushU
Good card. Protects itself. Potentially opens decks to use GFI+Ikawah agenda suites, or just Ikawah+FC3. This has the potential to be meta-defining like Obokata Protocol, but isn't quite that good at first reading.
Miek
Well it's better than Voting Machine Initiative, so that all 5/3 HB deck can at least swap one of its agendas across. I think this card is reasonable.
internet_potato
FFG probably needs to take some care that MCAAP/Load Testing/ELP don't get too out of hand, but this seems reasonable for now. The same way that people have quickly gotten used to preparing for Obokata protocol, people will have to adapt to this card. Like Data Loop/Musashi, we have cards like Strongbox and Mason Bellamy that can let the corp really lean into the additional cost-to-steal, or they can just use it as a reasonable GFI replacement. Either way, Film Critic's stock keeps going up.
Najja 1.0
---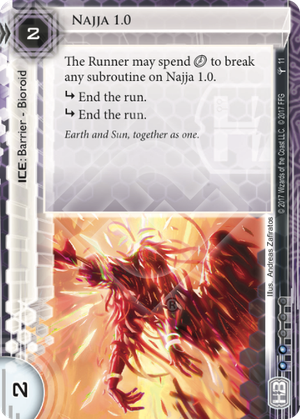 RotomAppliance
At first glance, this doesn't seem very good. Typically when putting ice in your deck you want to think about what an ice does for you, what it's role is, and this one doesn't fit cleanly into any role for me. It's not a gearcheck, and it isn't taxing for the runner once they have their breaker – every commonly played fracter beats it for 2. It's cheap, but you could pay 1 to rez Fairchild 1.0 as an annoyer, or zero to rez Vanilla as a gearcheck. I'm not writing this off entirely though, and it could see play in Architects of Tomorrow, or other decks with bioroid synergies, especially given the almost complete lack of bioroid barriers available at the moment.
FightingWalloon
If Eli 1.0 were still in the card pool, this would not be worth a glance. As it is, this is the second best in-faction barrier for HB after Seidr Adaptive Barrier. It is more resilient than Vanilla to Turtle and imposes some level of tax for a fairly cheap rez cost. It is not a great ice, but it will see play in HB decks that need a barrier and don't want to import one from NBN.
TheBigBoy
3/10
FoilFlaws
There's not much interesting to say about Najja. It has bioroid synergies but has no facecheck penalty. IP Block, Wraparound and Seidr Adaptive Barrier are all better but Najja 1.0 may have a place in Architects of Tomorrow or other decks without the influence to spend on IP Block.
CrushU
Replaces Eli 1.0. Slightly worse against Paperclip. I'd go so far as to call this the 'fixed' or 'balanced' Eli 1.0, which means it's probably just barely not playable unless you're specifically looking for ETR Bioroids.
Miek
The main point of this ice is to enable your Ravana 1.0 plays, which it does very well. It's not terrible as a gear check either, really pushing them to get the fracter out because the break value is so much higher than the click. Eli was almost the opposite of this, although easily the better card.
tvaduva
Nice barrier for bioroid synergy (Stronger Together, Architects of Tomorrow, Ravana, etc.), where your previous choices were Markus 1.0, Eli 2.0, or Heimdall 1.0. Those other legal choices taxed Paperclip the same or one more or three more (but cost four times to rez), respectively.
internet_potato
As an AoT fanboy, I'm pretty excited about this card. Having ICE with hard ETR is important for making Ravana and Loki useful. Having ICE that you can rez for free with AoT's ability is helpful. Having cheap ICE you can throw over a second server for NA plays, taxing the runner on clicks, and getting AoT triggers is useful. Overall, a solid addition to the bioroid family.
Gene Splicer
---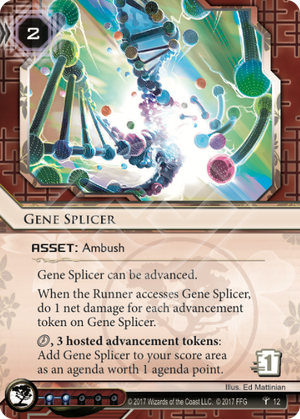 RotomAppliance
This is a nice concept, essentially a trap that can be scored as an agenda if ignored, thus providing a benefit whatever the runner chooses to do. The problem is that the scenario where the runner ignores it actually isn't that great for the corp: they pay 4 clicks and 5 credits to score 1 agenda point. The scenario where they go for it isn't great if Gene Splicer is just installed naked: 1 net damage per advancement is unlikely to kill the runner and still needed a lot of investment on the corp side. If the corp can persuade the runner to run through some ice to access it, then they come out ahead, but that would be true of any advancable trap. Combine with the low trash cost out of centrals, and I'd surprised if this card saw much play.
FightingWalloon
Is this the most expensive way to score a single agenda point in the game? In current decks that are trying to play the trap and net damage game, I am not sure what card this would displace. It is an interesting design space to explore, I'm just not sure if you made a rank-order of Jinteki advanceable traps (and commonly imported ones such as Cerebral Overwriter) which ones this would beat out to take a slot.
TheBigBoy
3/10
Sanjay
Playing this card without Mushin No Shin seems miserable. 5 credits for one point is a terrible ratio, and doing a tiny zap to the runner seems pretty underwhelming too. In exchange for every mode of this card being underwhelming, though, you get a card where runner choice is minimized: whether the runner runs it or not, you get an advantage, even if that advantage happens to be tiny.
FoilFlaws
Very slow, low damage but maybe a reasonable scoring threat/fake agenda point for 24/7 Philotic?
CrushU
This card exists for Mushin No Shin plays. If there's a Jinteki deck that wants to advance their cards instead of playing the Never Advance shell game, this will be a key piece of it. As it is, it doesn't slot into existing builds. At least it doesn't cost any credits to trigger the damage if they touch it.
Miek
At Worlds we saw CtM become the first really competitive deck that does the advanceable bluff, putting a bunch of ice down and then IAA behind it. Unlike trap cards like Project Junebug, the card that the runners weren't wanting to access was QPM, an agenda that they would score the next turn if ignored. This made it a great bluff game because even the dud card had value if left alone. I think Gene Splicer may be able to fill a similar niche for a glacier jinteki deck, although perhaps not quite as competitively. I'm excited to see how this may play out.
internet_potato
Clot-proof! Bring on the Dedication Ceremony shenanigans. Otherwise probably best in Mushin/shell game decks. Could also be good for decks where the scoring plan is 2 Obokata + 1 splicer. Not a great fit if your plan is 1 Obokata, 1 Nisei, and another 2-pointer..
Mganga
---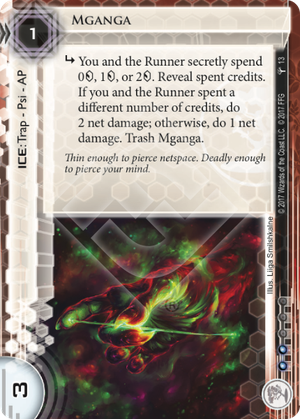 Zankoku
It's the return of Data Mine, except it costs 1 more and comes with a Psi Game! It will probably see about as much play as Data Mine did, too. The inclusion of Psi might make it an interesting pick for Nisei Division, though.
FightingWalloon
Don't you always want Kakugo and Aiki before this ice? There was a time when Data Mine saw play in PU decks, but this is a Data Mine that costs 1 to rez and at least 1 for the Psi game (what Runner would ever bid more than zero?) for a one-shot 2 net damage hit. I can see PU running this, but if slots are tight, I would imagine this gets cut before other ice currently in such decks.
TheBigBoy
3/10
FoilFlaws
I don't like trashing my own ice.
CrushU
It's Data Mine! Everyone, it's Data Mine, we've got Data Mine over here!! … See? Nobody cares. (Okay, so maybe Chronos Protocol cares.)
internet_potato
Chronos Protocol, you say…?
Genotyping
---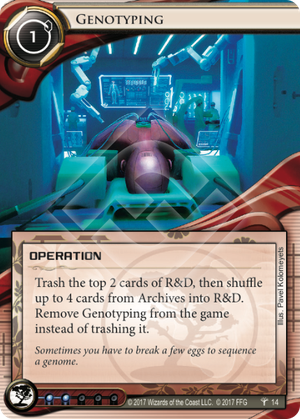 internet_potato
This is great for Jinteki in the Cache Refresh format (Preemptive Action and Special Report are both out of the pool). Probably also good in IG– I've been seeing Election Day do real work there, and this is in-faction and easier to control. You'll never make Archives any worse than it was, agenda-wise, with this card. Plus, it's non-terminal, so you have more flexibility than you do with preemptive, e.g. for tutoring stuff from R&D to HQ the same turn that you get it out of Archives. Seems like a strong choice for in-faction flood management, not sure if it will get splashed.
FightingWalloon
Another in the long list of cards printed to avoid reprinting Jackson Howard.
TheBigBoy
4/10
Sanjay
This card's effect is extremely similar to Preemptive Action, except instead of returning 3 cards you wanted it returns 2-4. So there are two questions: One, who wants this card in addition to Preemptive Action? Two, who wants this card instead of Preemptive Action? Spending 6 slots on recursion seems a little dicey, so I expect this will mostly be used as an upgrade over Preemptive for decks playing Breached Domes and Space Camps. I expect people to find paying one credit for this effect surprisingly annoying.
FoilFlaws
IG Synergy and improved Preemptive Action effect. Niche card that probably won't see play outside of IG/PU or another grindy style Jinteki deck.
Echo Chamber
---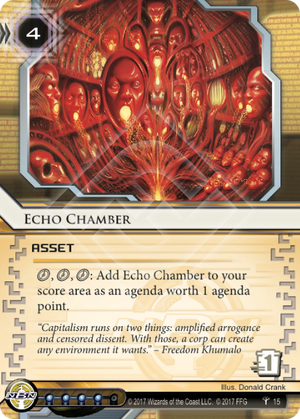 internet_potato
Like Gene Splicer, 4 credits and 4 clicks for one point doesn't seem great, especially with a low trash cost. This has the advantage of forcing the runner to check remotes when you're on 6 points, and at least only requires a single click (install) upfront, with the rest paid when you score it. I could see it working in CtM or an NBN deck that leans on ARES to discourage trashing, but I'm not sure that it's necessary there. It's worth testing to see if there is a critical mass of cards like Echo Chamber, QPM, Franchise City, 15 Minutes, News Team (etc) that can produce enough unstealable agenda points and negative agenda points that the corp can just shove their way to 7 points before the Runner gets there.
FightingWalloon
I'm trying to figure out what deck wants this card. At what point in the game would you want to spend the 4 credits and 3 clicks to score this? Only the final point of the game, right? So this is a card you don't really want in your deck until you are on 6 points. And then you need to be able to play it to board an not get it killed for a turn. At that point, though, you could just as easily score out a 3/1 for one credit less cost. Perhaps there is a some sort of never advance deck that wants to drag Runners through a taxing remote over and over where this card gains some value.
TheBigBoy
3/10
Sanjay
Interestingly, unlike with Gene Splicer, you can cheat on the costs of scoring this entirely with a Breaker Bay Grid. I have a bit of a tough time mustering enthusiasm for this card, but the archetype internet_potato is describing sounds fun.
FoilFlaws
Similar to Calibration Testing, you can use this to close out a game in CTM by making a lose lose situation in a taxing remote but probably not worth the deck slot. You never want to score this in the middle of the game, only at the end.
CrushU
Looks like a card for CTM to me. Not sure if anyone else will play it with the 1 trash cost.
Miek
Most of the stuff I was talking about Gene Splicer applies to this card too, but I don't think this one has anywhere as much potential. For a start its not gaining anything by being advanced. The downside it provides for being run is okay but it's still a lot of money and time (7 clicks of actions, not even including the install) for just a single point. I think its threat value is too low to make a strong bluff, and I'd rather just put a QPM in the server almost every time.
Self-Growth Program
---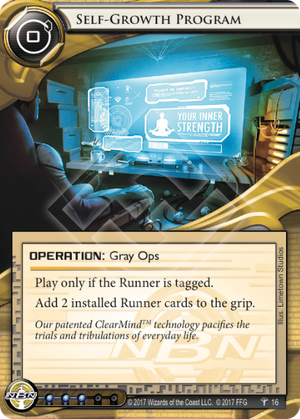 FightingWalloon
So my first thought on the best use of this card was to remove meat-damage protection cards such as Jarogniew Mercs on the turn you want to BOOM! But then I realized that bouncing 2 cards back to hand turns your BOOM! Into a value play rather than a killing blow. My guess is that the best use of this card will be as a taxing card rather than a killing one. It may struggle to get play over other cards that punish tags more forcefully.
TheBigBoy
2/10
Sanjay
Seems like a fun rude thing to do.
FoilFlaws
Back breaking after a Closed Accounts but shouldn't Closed Accounts be enough to close out a game?
CrushU
I'm in the same boat as Walloon. Seems good until you realize it can't kill people as easily. Might still be playable, if there's a tag-centric deck out of Yellow.
tvaduva
Another choice for single tag punishment in NBN. Meta choice between this, Closed Accounts, and The All-Seeing I. But, does have some fun combos with either Salem card, damage, and Target Marketing.
Calibration Testing
---
FightingWalloon
Does this mean NBN players have to stop whining about not being able to fast advance Breaking News or Astroscript any more?
TheBigBoy
5/10
Sanjay
A neat card for turning the ability to efficiently install cards and reliably recur them into scoring points. My mind goes to Team Sponsorship, Advanced Assembly Lines, and Asa Group, and playing this with Breaker Bay Grid also has appeal. I'm not sure if this card is more at home in an NBN deck playing influence for HB efficiency or an HB deck paying influence for this, but has potential in both.
FoilFlaws
SanSan reborn. Useful in CTM to bait runs to a remote or risk them FA out an early ARES or closing the game out with a Beale. Russian NEH might come back with this. Asa Synergy and Breaker Bay Grid synergy to keep in mind as well. I also suspect there's something in CI with this but I am not smart enough to figure it out.
CrushU
Continuing the theme of 'fixed' cards, it's Fixed SanSan City Grid. Unlike Fixed Eli 1.0, however, this is probably playable. This gives NBN back a Fast Advance tool, so that is apparently something they're still doing. Although in a more fair way, as it only works once.
Miek
I think this card is only really playable with team sponsorship, but I think with team sponsorship it has potential to be a beast.
Urban Renewal
---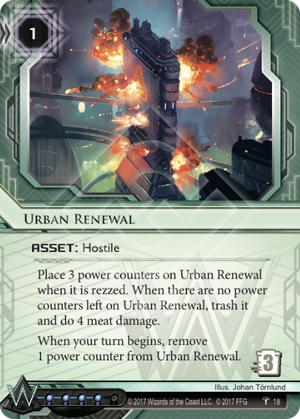 FightingWalloon
I would like to thank FFG for the return of IG prison decks and a fresh batch of Gagarin decks leaning on this card. I've heard many players say they think the game needs more "must trash" assets to force Runners to run and spend resources trashing Corp cards. This card will do that. It also give the Corp a strong tool to seize the initiative from the Runner. A Runner who wants to spend several turns sitting back and setting up will find themselves under a lot of pressure when a Corp puts this down. I see Abram rates this a 5/10 (one of his higher ratings in the pack), so it may not be the strongest card ever, but I do think it will be a card that Runners have to take into account when building decks and playing the game. In that sense, then, it will leave a noticeable footprint on the meta.
TheBigBoy
5/10
Sanjay
Giving the runner advanced warning that you are going to blow up their apartment is a pretty big deal, as it gives them time to either trash this or brace for impact. It is on the corp to make trashing the Urban Renewal burdensome and to make tanking the four meat damage unpalatable, but neither seems like an unrealistic task. For one credit, you are asking the runner a difficult question, and if you ask a runner enough difficult questions you have a decent shot of either running them out of resources or having them slip up and die.
FoilFlaws
I am not a fan of the type of deck this card goes into so it is hard for me to be excited about this card. That being said, this is crazy good for IG and Gagarin prison builds. This combined with Genotyping is likely to bring back Prison IG. Keep this in mind when you're planning out the turns you are going to be trashing a lot of cards.
CrushU
Seems very strong. However it also seems similar to Public Support… And at least that card won you the game if it was your last point. It looks good, but something in my heart tells me not to trust it. I look forward to being proven wrong.
tvaduva
At least it's four influence, so mostly Weyland benefits; I don't see other factions importing this and making a solid deck. The three trash cost is pretty fair. But, it's another lost opportunity to switch around the power counters mechanic and give Helium-3 Deposit more value.
Wake Up Call
---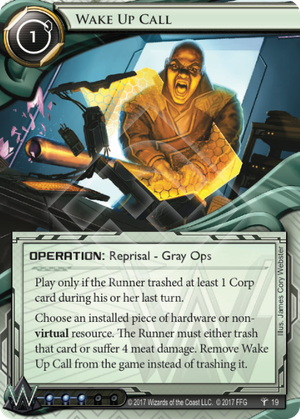 Whiteblade111
The first of a new type of cards: Reprisals. The triggering condition (having a corp card trashed on their last turn) is somewhat difficult to trigger. If any truly good reprisals get printed then a smart runner isn't going to randomly imp an event from HQ or an asset off of the top of RnD. The fact that the triggering condition is reliant on the runner acting makes me a bit skeptical of how easy it will be to fire it. The effect isn't even that strong either. I do not like cards that give my opponent a choice because they will always choose what is best for them, even if I wanted the other effect to work. 4 meat damage is a lot but if they really did care about the hardware or resource they'd take the damage in the hand, or if they cared about their cards vice versa. Interesting concept, poor execution.
FightingWalloon
So giving Weyland new ways to land meat damage appears to be the theme of this cycle. Since this is a punisher card and card players apparently hate punisher cards because they are bad, I don't expect this will get a ton of play. I could see it inspiring some Skorpios players to experiment with an asset-oriented deck rather than the glacier style that is most common in my experience.
TheBigBoy
2/10
Sanjay
This card is cheaper and less reliable than HB's version of this card (Hellion Beta Test), and arguably cheaper and arguably less reliable than Jinteki's version of this card (Voter Intimidation). The best thing about this card is that someone somewhere is going to flatline because they greedily held on to their Maw when the corp had Neural EMPs in hand, which will serve as an important moral lesson about the perils of avarice.
FoilFlaws
Potentially a value scorch, useful but not reliable as a way to get rid of Salsette Slums or Film Critic if those are relevant.
CrushU
Works very well if you can set up the fork: Trash this or lose the game. I doubt it will be easy to set up that fork. I'm reminded of O2 Shortage. At least this one has actually strong effects on both prongs of the fork.
Internet_potato
Punisher cards (where the recipient decides on the less-bad of two options) are a little tough to make work. They are at their most valuable when you can engineer a situation with two bad choices. This seems strong if Security Nexus or other high-cost HW is prominent in the meta. Otherwise, MCA Informant or Best Defense probably fill a similar role.
tvaduva
This might be the card that Boggs of thinking of when he said that there were upcoming answers to Sifr before it was banned. Even with the banning, there's enough high cost hardware and non-virtual resources for it to have value in most matchups. I see it as mostly a tempo card, which some of the closest comparables (Hellion Beta Test, Enforcing Loyalty, etc) often aren't because of their trace. The Corp is usually coming out ahead if the runner trashes a BOOM!, cutleries an ice, or trashes an Urban Renewal and you only pay 1 credit and a click to trash a Maw or a Laguna Velasco District.
Reconstruction Contract
---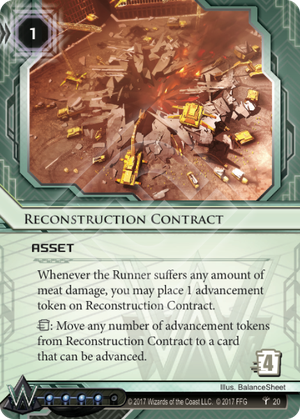 internet_potato
I love the design of this card. The numbers on it are great, and even with a single counter it's good enough to FA 3-cost agendas. The trash cost will keep it relatively safe in centrals, and the trash cost is probably irrelevant once installed, as you're probably going to be burning it before access to advance ICE.
It's not unique, and the appeal of flipping over 3 reconcons when the runner hits a Prisec or Breached Dome (or when you score a Show of Force or use a Contract Killer) is enough to make any Johnny's heart go pitter-patter. There might be some kind of busted combo with this card, but at 4 influence it's probably staying in BoN (where it can rack up easy counters) or Gagarin (where it may be able to sit unprotected).
There's also the dream of shuffling those counters over to a Ronin, Contract Killer, or advanceable trap for a cheeky kill!
FightingWalloon
Okay, so Weyland is also getting cards that let it gain benefits from doing meat damage. Builder of Nations seems like a natural home for this deck, but I'm not sure what slot this card takes from the current version of that deck. Argus might also be a place for this, if only to encourage Runners toward tags rather than meat damage when they steal. I've heard reports of people playing this with Dedication Ceremony. For the most part, this seems like a card you want if your plan is to do lots of little meat damage pings. If you are going to kill someone with meat damage, then this card has little effect. In your local meta, if you have someone who loves self-damaging Anarchs, this might be a funny card to slot in as a response.
TheBigBoy
2/10
Sanjay
There are a few interesting deckbuilding directions to go with this card. You can focus on how to do reliably do multiple instances of meat damage to the runner (for which I think Builder of Nations and Breached Dome are probably the best enablers) or you can advance it via tricks. Dedication Ceremony, for instance, never cared whether the card it was putting advancements on was advanceable or not, and presents an interesting fast advance option. You could conceivably try it with Mushin No Shin or Tennin Institute too (though influence might be dicey).
FoilFlaws
Interesting design space, synergies have already been discussed here. Weak to PolOp and just being run and trashed before it has enough counters to be effective. Anson Rose is a better FA option for Weyland currently.
CrushU
So Weyland can do 1000-cuts like Jinteki? Fittingly for this pack, we end with a card that we need more support for this archetype before it will be playable. Current look is Builder of Nations, and as an avid BoN player, that deck isn't playable and neither will this card make it playable.
Miek
As much as this helps BoN I think it probably has more value as a way of banking advancements from other cards into a fast advance strategy, sort of like a low click version of RPC/ToL. You can dedication ceremony this a few times and score a vanity project from hand. I suspect such a deck is probably not good but that the potential is there is pretty cool.
---
Final Thoughts
(Brush up on our Runner side review over here)
FightingWalloon
If my comments do not make it obvious, my opinions here are not backed by any great performance in this game. I hope something I wrote is interesting or useful to you. As a first pack in the cycle, this one certainly sets down some interesting markers for the direction the various factions will be going. It will be interesting to see which factions end up with a Smoke and which ones end up saddled with Khan by the end of the cycle.
Sanjay
I really like this set! There are quite a few cards that seem powerful but don't quite have an already established archetype to put them in, so it feels like the pack gives you a lot to explore. I'm also very pleased by some of the questions this set teases about Kitara cycle: what are the new directions Anarchs are going to take viruses? Where are we going with the expose mechanic? What are we looking at as far as mini-faction support? What is the mechanical identity of Weyland in a post-Scorched Earth world?
FoilFlaws
By Any Means, Calibration Testing, Genotyping and Urban Renewal are the stars of the set. Interesting foundation for Kitara but mostly I am happy for our first new cards in 5 months.
CrushU
Lots of cards that require further support to be playable. I've been burned by that in the past, so I'm not too hopeful. Still, we'll wait and see. A couple of gems here to make some formerly unplayable archetypes possible again. (NBN FA, Apex.)
tvaduva
Overall, most cards are either a flexible tool (By Any Means, Gene Splicer, Echo Chamber) a card to benefit a seldomly played archetype (Zamba, Assimilator, Asa Group, Mganga, Reconstruction Contract), and/or a card to build around (Yusuf, Ikawah Project, Urban Renewal). Only a few cards that are straight swaps of an existing card, except for maybe Asa Group over NEXT Design and Calibration Testing in CTM or NEH.
internet_potato
Lots of interesting stuff here. I'm most excited for the direction they are taking meat damage. It's becoming less immediately-game-ending and more of an enabling mechanic that can act as tax, click/credit pressure, or fast advance. Otherwise, I'm excited about the incremental support being extended to AoT, virus-heavy Anarchs, and NBN FA.