Welcome to the Stimhack Community Review for the Runner side of Sovereign Sight! It's been a while, so we've turned the following thoughts and opinions face-up after just throwing them on the table earlier.
By Any Means
---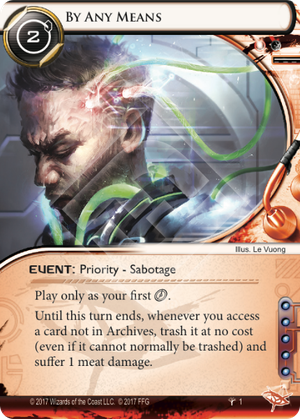 Whiteblade111
On the surface this card slots into two different gameplans. Using Paparazzi or Mercs to avoid the damage while accessing a massive amount of cards through a Stim implant, Information sifting or Counter Surveillance and self-damage decks. I don't see this card being very good in those kind of combo decks because trashing the cards on your power run doesn't immediately help you win. You'll trash agendas and if you whiff, you're only letting the Corp draw less to get to his agendas to rush out against you. I do think it will be potent in a Clan Vengeance/ Titanium Ribs list like the one that Timmy Wong ran at KOS 2017. Being able to get a turn of free trashes on single accesses while fueling Clan Vengeance out of Omar seems very strong. Overall I see it as a strong self-damage trigger card but not great beyond that.
FightingWalloon
In the current meta, I see Runners frequently using Stimhack as a tool to trash expensive assets without crippling their economy. If you'd be willing to take a brain damage to trash a Jeeves, would you be willing to take three meat damage to kill a Jeeves, Sandburg, and a Lakshmi in one turn for two credits? Would you do it if you had I've Had Worse in your hand and a Dirty Laundry you could play while doing all this? This feels like an interesting card for an asset-heavy meta. I expect someone will brew up some sort of self-damage combo deck with this and it might be a useful card in some hand-attack decks, but in a meta with so many assets that are expensive to trash, it feels like a card that could be useful.
TheBigBoy
2/10
Sanjay
I have dreamed about stapling a Demolition Run to an Information Sifting, and finally that dream is reality.
FoilFlaws
Using this ability to access and trash a large volume of cards with Counter Surveillance is a trap. This appears to be best used to trash a assets/upgrades in a single turn and disrupt combos in the hand with something like The Turning Wheel. The meat damage is a minor inconvenience in the faction of I've Had Worse and Jarogniew Mercs.
tvaduva
A flexible tool for (probably) only Anarch at five influence. As others have stated it'll work in those masochistic decks, but it's probably useful to just clear out a few annoying assets and upgrades (just make sure you're trashing at least four credits worth). It also helps you clear out potential traps without harm (besides the one meat damage). If you have burst multi-access it's worth trying one, and unlike Demolition Run, it still has enough value in other situations. The overlooked downside is that you'll have to go to Archives to steal any agendas accessed the turn this is played.
CrushU
Other than the combo turn of By Any Means, Jarogniew Mercs, Counter-Surveillance, use Counter-Surveillance, it's unimpressive. That combo is super hard to set up, too. Someone will try to make it work, but at best might fill a small role clearing out a server. Singularity says that's not an effect we're really looking for, though.
Miek
I like this card. It's probably too Combo to be good but the idea seems solid. The fact that it gets around traps is a big deal, however Jinteki using Breached Dome is a strong counter to using this against Obokata and The Future Perfect.
Yusuf
---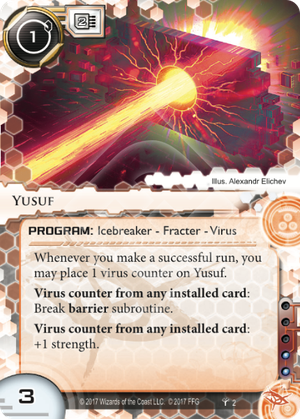 Theo
This card is an incredibly efficient breaker – very cheap to install, and it basically comes with a built-in Datasucker in that you get free credits for breaking, every run. Plus, the most common barriers in the meta are cards like Vanilla and Kakugo that Yusuf is very good against. The extra memory cost is not a huge deal, especially with Anarchs often running Maw these days and no longer needing space for Parasite and Medium. We've seen this kind of effect can be strong with cards like Aumakua. However, we've also seen the downside of those effects – is the raw credit efficiency of this card worth the risk that you're going to get locked out by purges and struggle with the occasional Chiyashi? The problem is that this card has to compete with Paperclip, also a really efficient fracter but one with none of the downsides that also synergises with cards like Inject. It's also arguable that Aumakua breaks most of the things this does about as easily, with the added benefit of being an AI. Overall, Yusuf doesn't quite make the cut.
FightingWalloon
This is a card that probably is not very good right now but might be amazing by the end of the cycle. With Noise out of the way, it looks as if we are going to get a bunch of new virus cards and virus tech this cycle. We could be seeing the first in a whole new Anarch suite and rig. Stay tuned and slot your Cyberdex Virus Suite to get ready.
FoilFlaws
Anarch's Inti. Paperclip is likely too efficient to be replaced with this but it's not that far behind.
Sanjay
Paperclip, like Corroder before it, is extremely efficient, and it makes it difficult to take other fracters very seriously. Yusuf succeeds where other fracters like Nfr and Berserker didn't: it has my attention. It's notable that Yusuf asks for one credit from you and then never asks for credits again, and it is also notable that Yusuf is one less influence than Paperclip. Both those mean that while Paperclip might be the wiser choice for most decks, Yusuf has upside over Paperclip that is worth considering.
SimonMoon
This is a cool card that you will need to build around to get value, but it has the numbers to make that building worthwhile (3 strength for a one cost install, a goofy built in desperado for viruses). However on its own it is not worth building around as it's competing with Paperclip, which is Anarch's strongest breaker, and it's a lot of work to break Barriers efficiently. Specifically, here are the issues it brings to the table that need to be worked around: An all server lockout + Purge, memory limitations, CVS weakness. Assuming we end up getting a whole set of them (with Decoder being the most important one), figuring out how to build around these drawbacks and creating an efficient rig is maybe worthwhile. This is some excellent design though, because it is an Icebreaker that has strong inherent counterplay and requires building around, and this should lead to interesting gameplay.
TheBigBoy
6/10
CrushU
The worst part about this card is that it doesn't do anything on its own. Playing this does not break any ice. I think with support it's probably good, but it does have to fight against Paperclip for Fracter space.
Miek
We basically need the full suite for this to be playable, as going all in on a virus based economy but still needing credit economy for breaking certain types of ice is going to be miserable. Once the full suite is setup (with Virus Breeding Ground as your drip) you're still vulnerable to CVS blowouts, so something like a single Overmind and Acacia to keep it alive seems fun. I think the 2 MU is a bigger deal than others are saying. Being able to load virus credits with Incubator would be really nice, and anything that limits your slots are a big deal. Remember Maw is not a good card, and even Memstrips is an expensive include.
internet_potato
It's exciting that with Noise out of circulation, there is more room for viruses and virus-counter effects. Yusuf and the upcoming Friday Chip look like the beginning of a cool archetype that can take advantage of various methods of generating virus counters. Looking forward to seeing what else comes out in this spirit.
Zamba
---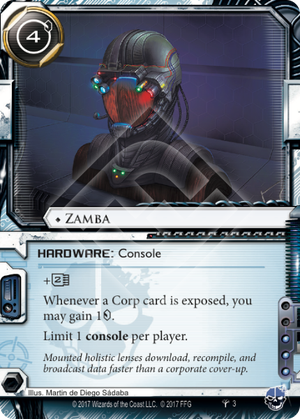 Theo
This effect is quite powerful but it doesn't have the support it needs right now. Crucially, it's not limited to once per turn, so it has the potential to be seriously abused. Plus it synergises with some already pretty decent cards, like Deuces Wild and the Pack 4 card Falsified Credentials. There are two main problems. Firstly, we're missing a consistent way to trigger it repeatedly. For instance, Zamba would be really good in the Snitch / Au Revoir decks that have popped up periodically in the past, but of course Snitch has rotated out of the format. Secondly, Criminals in general are short of the kind of really unfair effects like Account Siphon and Desperado that have historically justified putting up with their terrible breaker suite and shortage of card draw. But I'll be watching closely to see if other cards come out that address these two problems – if that happens, Zumba could definitely see play.
Whiteblade111
I think this is an incredibly strong console that is on par with Desperado, albeit only in a narrow selection of decks that can abuse it. The obvious synergy is with 419 and his suite of expose cards, but a prison Runner build out of Los with Rubicon and GPI net tap seems very good. I think GPI net tap is going to make this card very good, simply as it can trigger whenever, and GPI is not unique.
FightingWalloon
This is one of the cheapest consoles to get you +2 MU. Only Maya and Mirror cost less. This console has been compared to Desperado, but that is a stretch. Desperado gets one credit per run, which is a basic action that every Runner takes. Getting a credit each time a Corp card is exposed can generate some income, for sure, but the utility is much more limited and requires some deck construction choices to support it. This is a must-include for 419 and likely a good choice for Silhouette if your rig can use the memory. Other Criminals will likely look elsewhere and Criminal players will still look for a new Desperado to revive their flagging economy.
TheBigBoy
2/10
FoilFlaws
As mentioned, not being once per turn is a big boost but it is missing some support. This cycle made very well lead to this being a powerful console.
Sanjay
I've have been wary about people asking for expose to be pushed as a mechanic because hidden information is one of the most fun things about this game. At the same time, cards that expose stuff have historically been pretty weak, so I understand where calls to push expose are coming from. That said, I really love the direction Zamba takes it. Zamba doesn't make it easier to expose cards, so the corp can still maintain their secrets, but it does make expose more palatable if that is what you are up to.
CrushU
Four credits for +2MU and a semi-relevant ability is playable. Not nearly as powerful as Desperado. I'm seeing a theme that a lot of the cards in this pack so far don't really do much on their own, but are potentially powerful if we get the right support for them… My problem with that is summed up in a single ID: Khan.
tvaduva
GPI Net Tap, Silhouette, and the upcoming spoiled 419, are the only cards that can be used to repeatedly expose after rotation. There's a good chance that another has been designed, but until then you'll probably want to build around at least one of those cards, unless you have a critical mass of expose events in your deck already.
Miek
GPI Net Tap + Zamba is already shaking up to be a reasonably powerful economic engine. If you're able to keep the credit denial alive with Rubicon Switch then you're gaining three credits (and 3 Aumakua virus counters) for every ice protecting the server. In reality setup time means you've probably lost the game before this is fully alive, but I think the idea of the deck is reasonably functional.
Puffer
---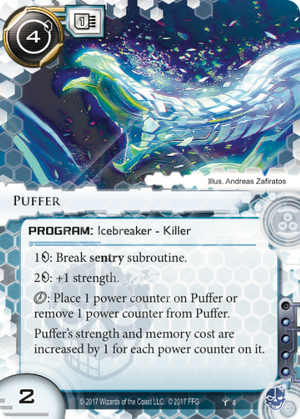 FightingWalloon
Let's assume you are playing Zamba with its plus 2 memory. Assume as well you are using Paperclip and Gordian/Abagnale as two-thirds of your breaker suite. Does Puffer make any sense? Does Datasucker mitigate the risks of Puffer? The potential efficiency of getting to break sentries for 1 credit per sub is appealing, but this killer just feels too clumsy to replace the traditional Criminal combo of Mongoose and Femme. Perhaps we will see other cards this cycle that make Puffer more interesting.
TheBigBoy
3/10
Sanjay
If you play this card and the corp scores a Helium-3 Deposit, you might be in for some Bad Times.
FoilFlaws
Probably better than Mongoose if you have a +2 MU console like Maw or Zamba.
SimonMoon
I'm highly conflicted on Puffer because I did not look at the art when first spoiled, and I assumed it was a fish. However it is actually a Snek, which is also a good animal. As for the actual card, Crim does suffer from the lack of a good Sentry breaker, and this is a well designed one. It is hard to tell if it is a good one though, and lack of a good sentry breaker is issue #17 with Crim right now.
CrushU
Hey, it's potentially better than Mimic. Dheghdeer combos very well with this card. Otherwise it's a 2 MU Mimic that can be expensively pumped, which doesn't sound like the best thing in the world.
tvaduva
It's a decent killer if you have the extra memory or a way to host it on memory-savers, but since most of those are out of faction and this costs four influence, it's not easy to do. If you can get it to four strength the only commonly played sentries to worry about are Archer and Tour Guide. It probably slots right into Geist.
Miek
Dhegdheer (or Dino) + Puffer is a two card Study Guide for Sentries. We know that Study Guide isn't a good card, and needing to install Dhegdheer first would only make it worse. That said, the design space of good code gate breakers is much tougher competition, so theoretically Puffer might have more flex room. That said I'm almost 90% certain that this combo is too finicky to see play. Puffer might still see play as a flexible Femme replacement, as Femme isn't actually the worst for breaking ice with, depending on the suite. And it does seem that criminal will have a lot of spare MU coming up.
internet_potato
If you install Mongoose while Puffer is on the board, it seems like for flavor reasons you should have to trash the Puffer. Also you probably should have just played Mongoose.
Lewi Guilherme
---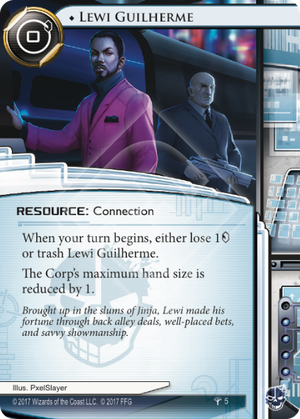 Whiteblade111
In normal Crim decks this isn't going to be very good, but in Gang Sign Leela having the Corporation's hand size reduced by one can be very punishing, making it harder to hide agendas when they want to score. I do not think it will see widespread play as the effect is really only abusable in HQ camp decks.
FightingWalloon
If I'm going to spend a credit every turn for something, I'd rather draw a card for myself than reduce the Corp's hand size. A smaller HQ does provide some benefit to the Runner, but having to spend a credit per turn for it does not seem like a good trade off. As Whiteblade suggests, this card is probably best in decks that sit back and do nothing — therefore spending nothing.
TheBigBoy
2/10
Sanjay
Like Drug Dealer except instead of cards you get people mad at you.
CrushU
What? No. I thought of Val + Itinerant Protesters, but this card is 4 influence. Not a fan. Maybe there's a Fisk deck that wants this for some reason?
tvaduva
Don't use Fall Guy to save this guy. Just get the two credits from Fall Guy and lose the one credit from Lewi if you want the effect to continue for another turn. It's really hard to think of any other good uses for this card, but it's a zero cost resource so you can at least sell it to Aesop (or Chop Bot 3000) after it's in play for a turn. I'm sure the comments will give us more ideas.
internet_potato
This Lewi Guilherme character sure seems important from the lore insert that came with the pack. So maybe there will be more cards that synergize with this effect? Or maybe it's just not very good. Akshara Sareen sure showed up a lot in Mumbad, but she doesn't see a lot of play.
Cyberdelia
---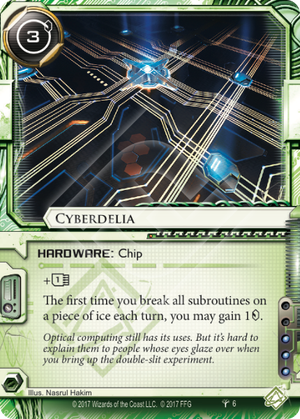 Theo
This card is an efficiency card that isn't very efficient. It's simply outclassed. It's much worse than drip economy cards like Data Folding and Underworld Contact because you have to be running and breaking ice in order to get its effect, and it's much less efficient than similar alternatives like Multithreader and Cloak. The only benefit of this card, then, is the extra memory, but even there it's hard to imagine preferring this to alternatives like Dhegdeer and even Leprechaun.
FightingWalloon
Akamatsu Mem Chip gave us 1 MU for 1 credit, so what does this card give us for the +2 cost? In a Shaper deck that plans to run and break ice on a regular basis, this gives 1 credit per turn. That is not terrible. I could see a Shaper that decides to run this instead of a console. Or rather, I could if Astrolabe were not a card.
TheBigBoy
2/10
Sanjay
There's a big difference between being handed a credit and getting a discount (there's a reason Modded isn't a 3x include in most Shaper decks). And while this card reads like you are being handed a credit, you only actually get that credit when you break ice, so I imagine this plays a lot more like a discount. I would look to use Cyberdelia in decks that 1) could use the extra mu and 2) expect to break at least one ice a turn, which makes me principally think of Smoke.
FoilFlaws
Could be used in Stealth decks with Deep Data Mining but just like Zamba has potential for not being once per turn, this card is hurt by being once per turn.
CrushU
Once per turn immediately makes me think of Stealth. I think it costs too much; the MU is unneeded, I think. If it were 1cr for just its ability, no MU, it'd look much better. As it is: Pass.
Miek
Theoretically a stealth deck could get value out of this, as they're usually able to make 1 free run a turn once they're setup, and they gain a lot of value out of extra MU for holding extra cloaks etc. That said, Smoke is the main stealth deck and her problems are finding slots and setting up quickly. All the best Smoke decks sacrifice end-game power for a faster setup time, so even she wouldn't be playing this. I agree with others that this card isn't really that playable right now, but if smoke did need 1 more MU I could see 1x of this taking up that slot.
internet_potato
probably useful in a deck that needs more glowy gem things and already has 3 LLDS memory diamonds.
Upya
---
internet_potato
A post-rotation replacement for Deep Thought. That is to say, a sleeve in the Shaper program section of your binder that has a neat piece of art in it.
FightingWalloon
The dream scenario is that this card sits in your rig accumulating counters while you do what you going to be doing anyway. Then you use these extra clicks at key moments in the game to seize some sort of advantage. The problem is that Shaper has a whole range of cards that do similar things without all the work. I suppose if your game plan is to don your Top Hat and slam R&D 3-4 times a turn, then you could get an extra click every turn. Or you could install Beth and get pretty much the same thing.
TheBigBoy
2/10
Sanjay
My understanding from my extremely limited research on Swahili pronunciation is that the card is pronounced "oo-pya", which severely limits our ability to make "Nothing, what's upya with you?" jokes. Just trying to nip this in the bud before we repeat the travesty that is Batman/Atman puns.
FoilFlaws
Clicks are good and Upya is not unique. There's probably something there.
CrushU
Pro: They aren't virus counters. Con: They aren't virus counters. I don't see this being playable.
Miek
Goes right into a Cold Ones build to add +3 clicks every encore. That's pretty damn significant, although does make cold ones even slower at setting up (for a deck that's not seeing any play because of slow set up.. yeah…)
Assimilator
---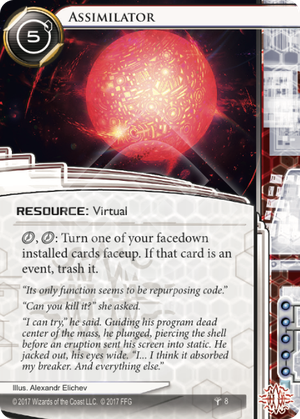 internet_potato
My valuation of this card is that, with a clickless Apex facedown install, the first click of the effect can be thought of as giving you credits equal to the install cost, and the second click replaces the standard click-to-install action.
I can see this card working well if you see it early, or if you use it to rebuild after Apocalypse. I suspect that it's going to end up closer to Chatterjee University than to Breaker Bay Grid— both of which give discounts rather than real credits, but only one of which has broad enough use cases to see play.
With its dependence on both face-down installs and its steep 5 influence cost, this card won't see play outside of Apex.
Edit: after playing with this a little bit I hate Apex and I hate this card for breaking my heart.
FightingWalloon
If you don't have an Apex deck on your NRDB private deck list, you do not understand the excitement this card generated when it was first spoiled. Apex players huddle together in lightly attended Slack channels and speak hopefully of the coming of "the card" that makes their favorite invasive space alien a viable Runner deck. Amid dark mutterings about the evil of Fairchild 3 and the injustice of Crisium Grid, they speculate about what Apex needs to challenge Sunny as the mini-faction most likely to actually make the cut at a big tournament. Sadly, this is not the card. That said, it is one of the best flavor cards in the cycle and will inspire a great deal of Apex deck-building experiments. By allowing Apex to play non-virtual resources, it will also be the card responsible for the most Borg references in Netrunner. "Resistance if futile, Mr. Bagbiter. You have been assimilated."
For my money, I think the best use of this card is as a card to recover from Apocalypse. Right now, post-Apoc, Apex needs to either draw new programs, hardware, and resources, or needs to trash the face-down ones, Levy, and then draw them again. Although spending two clicks per card is not super fast, Apex could recover its key pieces in a couple turns and minimal credit cost using Assimilator, giving it a chance to land another Apoc before the Corp can get fully set up again. I am aware that Apocalypse is often left entirely out of Apex game plans right now, but I think Assimilator's best use is not to enable Rachel Beckman jank or Aesop's Pawnshop, but to shorten the time between Apocalypses.
TheBigBoy
Apex/10
Sanjay
If you are building around this card, you need to grapple with some tough challenges: 5 is a lot of credits. 2 is a lot of clicks. Playing cards a bunch of cards that are blank until you draw and install your 5 credit resource invites inconsistency. But if you can manage those, this card is very exciting. What Apex as a faction needed most is deckbuilding options. Pre-Assimilator, Apex was very constrained in terms of what it could play, and personally, I was not excited by Apex deck diversity. Post-Assimilator, Apex has picked up over 100 cards it can theoretically use, and has picked up a respectable number of cards that it can actually use. The sky is the limit for my favorite spaghetti weirdo, and this is an incredible boost in options to come to a faction from just one card.
FoilFlaws
This opens up Apex deckbuilding possibilities for sure. I am not sure I want to use this with an Apocalypse build due to the install cost on Assimilator. Ultimately, I don't see this changing Apex's standing in the meta but the things you can do with it will be wild. Please note that anything that says "when installed" doesn't work with Assimilator (i.e. Liberated Account and Daily Casts)
SimonMoon
I was the one who asked Jakodrako (with help from the NYC crew who brought up the question initially) on the Cyber-Cypher ruling so everyone should be thankful to me for helping make this better. That being said, everytime I watch someone play Apex it seems miserable and fruitless, so you might have been better off with less temptation.
tvaduva
This is as close to auto-include for Apex as I've seen. It allows Apex to do a hybrid of Apocalypse and build a rig with breakers that can get through not strictly "end the run" subroutines. Since you're installing a facedown card a turn clicklessly (as internet_potato astutely pointed out), it's similar to the efficiency of Magnum Opus if the card cost at least two credits. If it was one click per install it would be Mumbad City Hall bonkers for Apex. With the rotation of Torch and Garrotte, we need more expensive cards to really take advantage of this effect. But, the Cyber-Cypher ruling helps replace the efficiency of Torch and saves an influence (thanks Kenny).
Miek
This card is super fun. I suspect it's really not that efficient, and it's a shame that the main target you'd want to use with it (Aesop's Pawnshop) is now a restricted card, stopping you from using the Levy that's been so clutch in every Apex build. There are still many possibilities with this card though.
Check back with us tomorrow for the Corp side! (Spoilers: 2/10)