Welcome back to our reviews for Kampala Ascendant. You can check our runner reviews back here but we're probably going to install a Cortex Lock in front of it when you click on it.
NEXT Diamond
---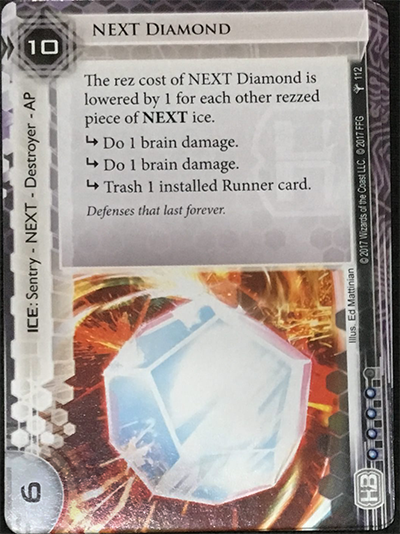 greyfield
My eyes glaze over at the brain-damage clauses, but that third subroutine is pretty strong. The real problem here is there are only really six other NEXT cards worth playing, seven if you count a Mother Goddess, and I'd wager I wouldn't be happy rezzing this for more than seven credits, since again I only really like one of the subroutines. That seems spotty. Would be much better if NEXT Bronze was still around. C.
Saan
The ice strength is great, the subs are… okay, I guess? The rez cost is terrifying, even with the bit about lowering it. There are almost no NEXT ice that you would want together in the same deck for this to draw from for the lowered cost to be worth it. Ah, NEXT. How far you have fallen.
Miek
I really just dislike NEXT on principle. Can we just ditch it as an idea please? Luckily as others have said, this is very expensive and doesn't mesh super well with general NEXT cards, however Sapphire ended up being much more playable than I thought and silver was always the best one in previous NEXT iterations.
CrushU
Theoretically speaking, you can at least play this with 0 other NEXT ice in your deck. Silver and Bronze share that ability, so this is plausibly playable. The rez cost is pretty steep at that point, but it's playable. If you ignore that clause, a 10rez 6str Sentry that does 2 Brain and blows up any card is actually relatively reasonably priced. That rate is what I'd expect to see on a Bioroid, so I think this card is better than it looks. I still don't think you'll see it everywhere, it's still a 10rez ice that doesn't end the run, but I wouldn't be surprised to see one or two in a deck now and then. I think this is probably the second-best HB ice of the cycle.
tvaduva
Woo… two NEXT ice in this cycle. Too bad it's four influence in case Blue Sun was looking for a Janus replacement. Neat ice to lower the rez cost, a lot of people were guessing that would be the way they would have gone with NEXT Gold. Not a bad idea to include a few of these if you're already running Remote Enforcement, especially with other NEXT ice.
Riot Suppression
---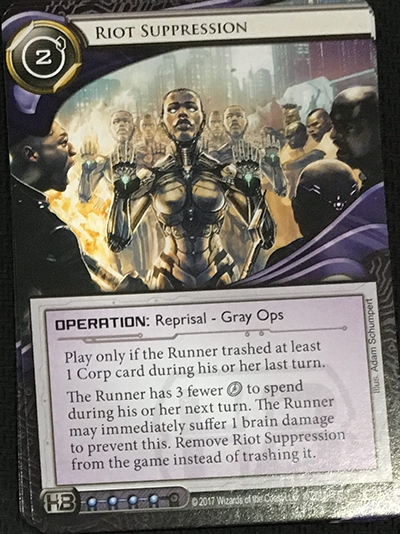 greyfield
I've talked about this before on Tempus – it's really hard to imagine the sort of deck that can consistently trigger the prerequisites for this card and take advantage of both the click-loss and the brain damage. D-.
Saan
I absolutely love the stealing of 3 clicks; that's a brutal punishment for trashing a card. In turn-based games, the best thing you can do is to deny actions to your opponent. It makes me really sad that the other side to this card is nearly meaningless, and is always going to be the side the runner picks.
CrushU
I mean, I guess paying two credits to do a brain damage is good…? The issue is again that the Runner will pick whichever side is least harmful to them. Usually that's brain damage, but sometimes they'll just eat the click loss instead. That said, I do think that any deck trying to make brain damage a thing is likely to use this card. I'm just not convinced a brain damage deck is good, yet.
dr00
I think this is the most reliable brain damage card in the game because the Runner choosing to lose 3 clicks is enormous. Cybernetics Division could have a lot of fun with it, and if you play Defective Brainchips first, you'll give the runner a decent choice to make, but unless it results in a flatline, always take the brain.
Mti Mwekundu: Life Improved
---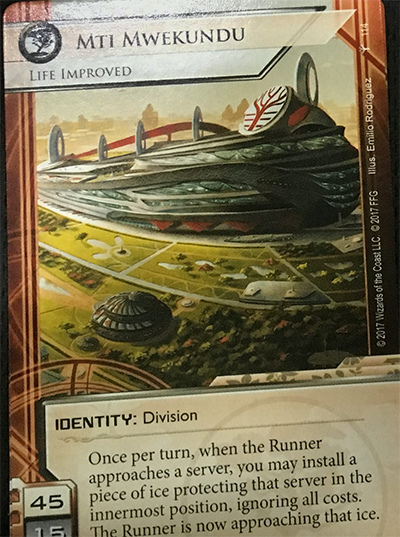 greyfield
Note that the Runner can choose to jack out when approaching a piece of ice unless it's the first, which means this isn't quite as brutal as it looks unless they're running a server with no ice. On the other hand, Jinteki is known for their servers without ice. On the other, other hand, that requires you be playing a deck with a lot of ice that you then chose not to use. More likely, this ID is yet another abettor of Jinteki glacier, and probably a pretty good one, since even at its floor it gives you free ice installs at little cost. Even just being able to install a piece of ice for no clicks and no credits each time the Runner runs seems great. A-.
Ion_Fox
While I believe the ability to get a free "surprise" install once per turn is a great ability, I actually am going to disagree slightly here on direction. I feel like MTI is going to be a very very potent asset spam player. Let's say you take a turn installing 3 cards, but you only really care about one of them (like an agenda, Estelle Moon or what have you). In this case, you only need to trigger your ID if the Runner happens to check everything or guesses right. Now, if only Jinteki had some really painful facecheck ice…
P.S. Surprise installing a Miraju or Sadaka to throw off an Indexing is also pretty hilarious
Miek
Some people laughed at me in the Stimhack Slack for suggesting that this is the best Corp ID in the game but I still stick by it. You don't actually need many ice at all for this ability to be impactful, just nakedly spam cards without any protection and make them faceplant a Cortex Lock/Architect to even check them. It turns out that most decks won't have an MKUltra by turn one and you can get some pretty impactful plays in during that time, like loading up an Estelle Moon or setting up a "damned if you do, damned if you don't" Mushin Obokata/Bacterial programming with punitive backup (and Cortex lock facecheck on run).
The natural place to look at this ID is for glacier, based on the fact that it's an ID about ice. While I think Mti is perfectly serviceable as a glacier ID, it's obviously not quite at the level of the power IDs they already have like AgInfusion and Palana. I suspect most IG decks are better out of this ID than in IG though.
Saan
This ID looks crazy good. Jinteki have been batting 1000 when it comes to good IDs over the last couple years, and this one seems to follow suit. Miek references Mushin decks, and Ion Fox talked about asset spam, and I can't disagree with either. This could even be an ID where you just install something every turn and just see what the Runner does. Depending how deep a rabbit hole you want to construct, you could import Liquidation to burn a server down and then Preemptive the ice and asset/upgrade back into R&D for more fun later. The idea I'm talking about is kinda janky, but I think that both jank ideas and higher tier decks will find welcome homes in Mti.
SamRS
This is the strongest asset spam ID ever printed. 9/10
CrushU
So, one thing that hasn't been mentioned is that this synergizes quite well with Jinteki's positional ice. One of the problems with those ice is install-order problems, and you can partially solve this using this ID ability. Put down an Inazuma, then use the ID ability to install Anansi or Chiyashi behind it. Then when they run again, rez the Inazuma to do mean and nasty things to them.
I do agree that Glacier is probably better in other IDs like Palana or AgInf, but you can also use this to construct a resilient server while getting value from assets in the meantime. If I install a bunch of assets and you run on one that I care about, I can shove a Komainu in there. Then I can just keep using that server for assets, shoving a new ice in there each time, until I have a ridiculous server that I can use to score agendas out.
tvaduva
I for one look forward to meta of Anarch HQ destruction versus this. I guess the first thing to determine is how much ice to pack, because you always want ice at the ready, but since you don't have to commit the ice until there's a run maybe it's not too bad to have a lower amount of ice. I'm hoping this is not a too oppressive asset spam archetype in practice given that the Corp may not want to ice too many remote servers.
Mlinzi
---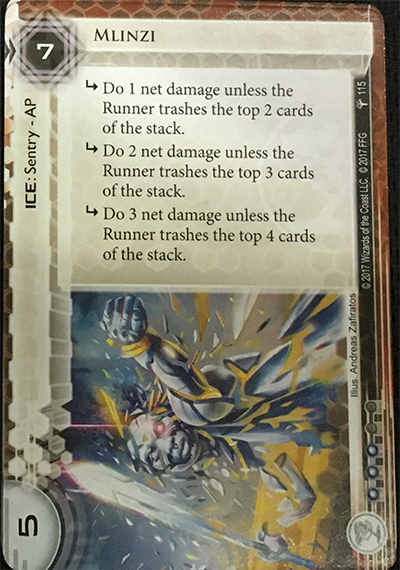 greyfield
Five-strength sentries are in a good position right now. The real question is whether your deck can take full advantage of the Runner just choosing to trash 9 cards from their stack the one time they face-plant into this card. That doesn't necessarily mean this card can only go in PU – Jinteki decks generally like decking their runners en route to killing them, since it makes the latter task so much easier – but it does feel less inherently powerful than Anansi and so really requires you be able to lean into the milling, I suppose with Chronos Project or Ark Lockdown. Probably too kinky to be really strong. But it's not terrible. C+.
Miek
The obvious comparison is Anansi, which is similarly a 5c sentry for similar rez cost and 3 subroutines. I think Mlinzi is not as good as Anansi, which is good because I absolutely hate the subroutines on Mlinzi and think they are bad for the game. Seriously milling the deck is such a gross mechanic focused on slot-machine wins and I wish PU didn't exist and this is just another card for enabling that archetype. Luckily Anansi is better so hopefully everyone just always plays it instead – I know I will.
Saan
This is clearly hilarious in PU, as both options are basically the same thing when it comes down to overall cards discarded. It's also at that breakpoint in strength where MKUltra needs another 3 credits to break the third subroutine, bringing it from a rough 6 credits to a ghastly 9. People will most likely let the 1-net sub fire, but this is still good if you are PU. Anansi is definitely better outside of PU and potential other future mill archetypes.
CrushU
This is a card for any deck that wants to kill the Runner through sustained damage. That does mean Builder of Nations can theoretically use this card.
Better Citizen Program
---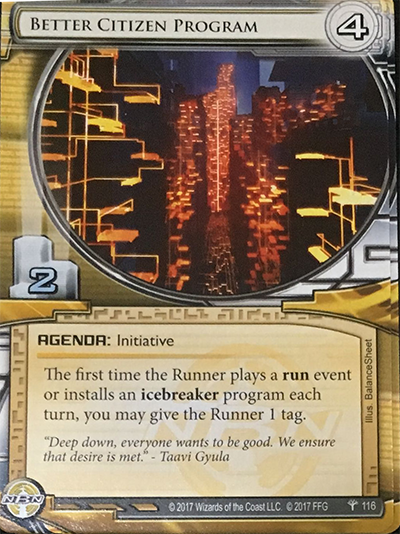 greyfield
Hmm. I'm torn on this. I feel like you're often not gonna get to score it as early as you'd like – the icebreaker part feels like it'll usually be too-little, too-late. That said, there is the niche possibility of feeding Quantum Predictive Models to runners too aggressive with their multi-access. I don't believe that's enough to earn the slot. C-.
Saan
This is another way for NBN to stick a tag on a Runner's run, and might help them reach that critical mass of tags that the Runner has a hard time dealing with them. It's hard justifying it over other agendas like Corp Sales Team or Exploda, though.
dr00
This only seems to work in a deck that utilises all of NBN's new 'bounce to grip' or 'shuffle back into the stack' cards of late, since I doubt you'll be able to score this reliably early enough to pressure the Runner's rig-building.
Market Forces
---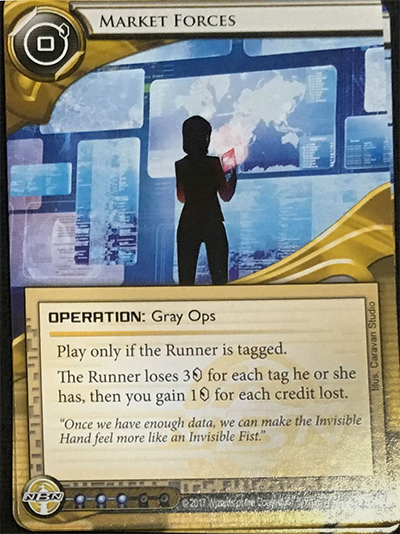 greyfield
Tags come in three quantities: zero, one, or loads. This card is very bad with the first two cases (where Closed Accounts, a card that not infrequently fails to make the cut anyway, plays nice with Data Raven counters/SEA Source). In the latter case, sure, you get Closed Accounts with upside, but what's your plan, then, for using that money? Why would you take this card over Exchange of Information or, specifically, Psychographics? If Midseason Replacements still existed, this would be different, but as is… C-.
Miek
Similar to High-Profile Target – this seems like it is mostly put in there as an over the top answer to tag me getting too powerful. If that does happen, then you probably slot in Psychographics and/or Market forces and just win the game off of the tempo it provides you. Otherwise you're almost always just better off with Closed Accounts as its binary level powerful instead of scalar.
Saan
This seems like a worse Closed Accounts. Gaining money while draining theirs is always great and all, but taking *all* of their money 100% of the time vs taking a few bucks and gaining a little less just isn't as exciting, nor as powerful. If I'm still running Closed Accounts *and* I think I have room for this, there's other tag-punishment cards I'd run over this that enable me to win the game either faster or on the spot, so I don't think this card is a card.
tvaduva
It seems Runner don't care too much about floating a few tags for a few turns if they don't have agendas they're worried about being Exchanged, so I don't think it's really worse than Closed Accounts in NBN. The worst case Closed Accounts comparison (except the few times you can assemble SEA, Closed, HHN) the runner still loses three and you gain three, which is pretty nice. But, there's some significant blowout potential to have enough credits to Psychographics the Beale or GFI for the win. It's also influence-free backup for Threat Assessment. And with Mars for Martian decks on the rise, this is probably a better meta call than Closed Accounts.
dr00
This seems to be the best anti-siphon card there is except siphon doesn't exist anymore. Great to combat tag-me, which did get a few more support cards this cycle, so it could have merit. I think if you play this over Closed Accounts, you have to want the extra credit return as well instead of just draining the Runner.
Surveyor
---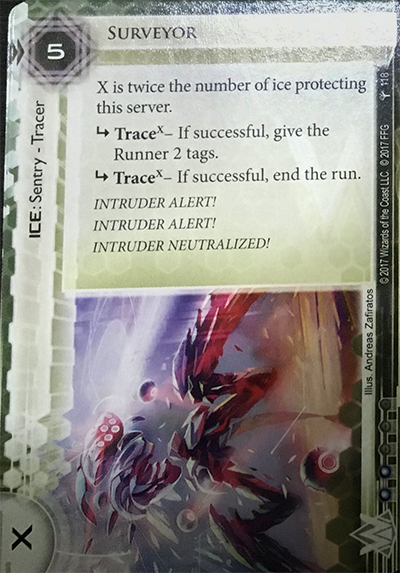 greyfield
Ice that only traces doesn't impress me. I think minimum X has to be 4 before I care, and at that point, this card will very rarely be the difference-maker. And now for the weather report for today's parade…. D+.
Ion_Fox
Given that X is twice the number of ice protecting the server (think Seidr Adaptive Barrier), I think this can get out of hand real fast. As someone who had fun playing with cards like Searchlight and Checkpoint, I think I will enjoy throwing this into a few random Weyland and even NBN decks. The flavor text makes me want to hug it, it's adorable.
Miek
Yeah I think this seems pretty solid in some weird Weyland Jinja City Grid deck. Probably not a competitive deck itself, but the card itself shows promise in it. At some point those traces are going to get out of hand and it'll essentially be an ETR, however the 5c rez cost upfront for what might be a weak trace hurts this a lot.
Saan
This is a little bit like Seidr Adaptive Barrier in how it functions in respect to strength, but instead of a hard ETR, we get traces that are also shaped from the ice in the server. This feels a little like positional ice, in that it requires other ice to actually be relevant, and with some more ice destruction coming back into the card pool it might mean this is harder to play. At just 3 ice, though, it gets a strength and traces of 6, which is pretty sick for a rez 5 ice. I'm also loving that Weyland is getting more ice that throws out tags, especially when that number is 2.
SamRS
Relevant at 2 ice and amazing at 4, this will likely see play because high strength sentry breaking seems to be the weak point of most Runner decks. While strong it certainly isn't very flexible, so make sure the rest of your ice suite can cover it's down side (sucks on centrals)
CrushU
Honestly this reminds me of Draco, where at a low X value, the trace would just be beaten, and at a high X value, the subs would be broken. As a Sentry with two subs, Mongoose compares favorably to it, but most other Killers don't, so that's a point in its favor at least. I think the ice is playable in glacier Weyland that wants to tag the Runner.
tvaduva
Weyland is getting some two-tag love this cycle and they sorely needed it. Before this cycle they had one card (that had to be advanced), this cycle they get three. With just one other ice on the server this is reasonable and it only get better from there.
High-Profile Target
---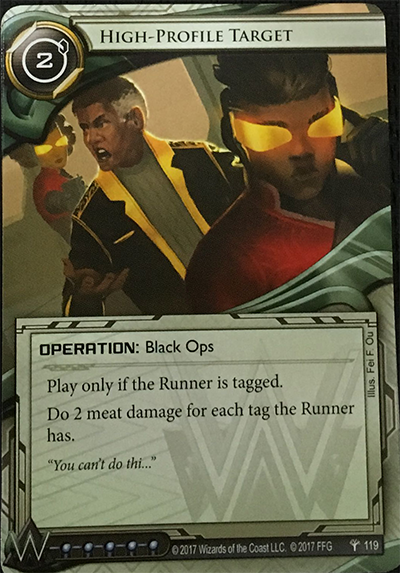 greyfield
Praise the nostalgia gods, we've got our Scorched Earth back, kind of. This card will definitely see play, since it's not hard to imagine the single-tag situation coming up, especially in decks like Argus where incidental tags are easy but guaranteeing the double-tags often requires several things to go right, including Hard-Hitting News. Will it bring Weyland kill back altogether? Mmmmaybe? But I'm eager to find out! B+.
Ion_Fox
What timeline is this, where we have been blessed with a good Weyland card that is actually hard to splash in NBN!? Personally, I actually feel that is is probably much better than Boom!, and will probably go in as a single copy (maybe 2 in unique cases) for most decks to punish anyone for floating tags (or the occasional Counter Surveillance Anarch). I still miss the classic of SEA Source into double scorched though.
Miek
This card just destroys Tag Me in a level that's extreme. Jarogniew Mercs is not an answer, as it does more damage than one can ever prevent. Obelus is not an answer for the same reason. If you have a full hand of obelus and a fresh jarogniew mercs you can technically survive, but that's very extreme. There is really only one answer to this card, and that is Paparazzi. I suspect that any kind of tag me in the future is going to have to invest a good 7-8 slots on Resource/Damage protection, or just make the meta call that you automatically lose to any weyland deck that includes this card. RIP.
Saan
Ahhhh yeah. That's the stuff.
CrushU
Whoa, a good Weyland card… Hold on, let me check the list…
Ehh, I guess there's a few other good Weyland cards in the cycle, so this doesn't become definitely the best W card in the cycle, but it's definitely in the top 3. If nothing else, this card's existence should reduce the number of Counter-Surveillance decks in any given tournament.
False Flag
---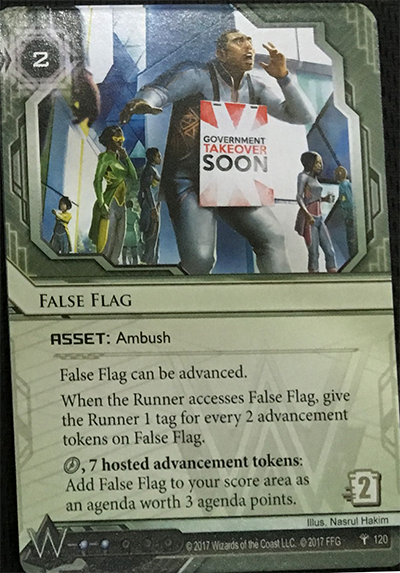 greyfield
Non sequitur time: everyone who plays Netrunner should at one point in their life hard-score a Government Takeover. It is one of the most delicious feelings in Netrunner, especially when you then get to click it for those sweet credits. Now, the thing about False Flag that gives me a bit of pause, besides having to pack kill cards, is just figuring out how you'll advance it to bluff at it being an agenda. Are you gonna have it at 5 and then score it the following turn? If so, what are you pretending it is? More likely your strategy is just to dare them to come take the tags, knowing full well it's a False Flag (unless you're mixing in Dedication Ceremony, which is probably not terrible), and then I struggle to think how you'll guarantee those tags stick. Those five advancements are expensive. Overall… ehh. The deck probably exists, but it's got a lot of what-ifs that can't be easily answered. Maybe this is your new favorite card; I'm just gonna go back to planning my coup d'etat. C.
Ion_Fox
Just stop being a coward and play Government Takeover already. Why settle for a couple tags or 3 points when you can get 6 points and a super opus (assuming you don't win the game outright). Since if the Runner let this go in your server long enough to have any impact beyond 1 tag, you were probably better off just going for the takeover. The art is amusing at least.
Saan
I wish this trashed for more. When I first saw this card when it was spoiled months and months ago, I was super down on it. It's the most expensive 3 points in the game, and its tag-to-advancement ratio is not amazing. However, there are several ways to cheat more advancements on this, mostly including Dedication Ceremony, but also Mumbad Construction Co. If you have the right hand, Install, Dedicate, Dedicate says to the Runner "Come run my (hopefully gross) scoring server, where you will then have to pay 2 to trash this asset for the pleasure of gaining 3 tags. I'm not sure that's worth 3 card slots, but the ability to gain points from cards the runners can't is a powerful effect. It's most reasonable home is probably in Gagarin. I don't know if this will see serious play or not, but I'd love to see it out there.
CrushU
This card is amazing, and I love it. And it's terrible.
The best thing about this card is that it is 3 agenda points that the runner can never take from you.
The worst thing about this card is that you'll probably never get those 3 agenda points.
tvaduva
Fun card and I like it a lot. The biggest downside is that it doesn't count towards your decks agenda requirement. Mushin, advance and triple advance the next turn gets you a three-pointer; may be a better play then rezzing, dedicating and showing the Runner what you have in store for them. They key is how risky can you make it look.
Final Thoughts
---
greyfield
This set feels kind of like an overstated mea culpa for taking away the most fun toys in Revised Core Set. That said, I'm more than happy to accept those mea culpas if it means I can have those cards back, and definitely this set will really set the game on a tilt going into Reign & Reverie. Zer0 may be one of my favorite cards in a long time – it creeps right up to the edge of giving too much value without going over, while still pushing you to shape your deck around it where, say, Bloo Moose was a crude instrument.
Overall, I've been quite happy with Kitara, especially under the new regime – the game feels very dynamic, with a stable metagame that still rewards innovation. Definitely post-Mars, post-Core 2.0 felt a bit… not solved, but in need of a stiff kick in the posterior, and Kitara has delivered. Now, if I can just get Aesop's Pawnshop off the MWL list. Anyone know if Boggs accepts bribes?
Saan
This is obviously the pack we've been waiting for, especially since we've known it, card for card, for months now. Almost every powerful card for the cycle is in here, and we've finally gotten back most of the effects that Core 2.0 took away from the Core Set experience. I'm a pretty happy dude.
CrushU
Okay, look, I'm also very happy that we're getting some great cards in this pack. I am mildly concerned that this pack is very similar to Quorum and Crimson Dust, where it seems that some of the most impactful cards of the cycle are in the last pack. (Less true of Crimson Dust, at least.) Still, I'll say that I'm pretty excited about this pack, the cycle, and the direction of the game as a whole, so pretty successful I'd say.
tvaduva
Definitely a must-buy pack for anyone that wants play competitively. Lots of cards that are generally good, and even some interesting cards that can be built around.