Welcome, g-mods and naturals, to our second-to-last-ever Stimhack Meta Predictions Article! We've got a whole lot of cards to get through, try holding your breath and reading them all at once for the ultimate rush. How many more chances are you going to get?
Nathaniel "Gnat" Hall: One-of-a-Kind
---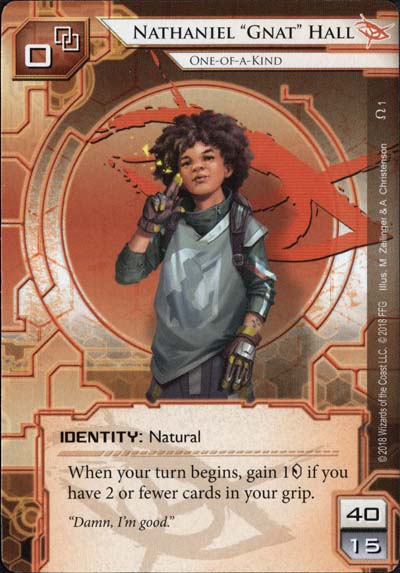 Miek
Not feeling Gnat. 40 cards already a liability when net damage is such a prominent part of the meta. Unless something gets done about Obokata and the like then net damage will be prominently too good for his ability to stay active, which is already middlingly weak anyway.
CrushU
If the low-hand Anarch archetype ever exists, it'll be in this guy.
RJayz
A 40 card deck size is a nice touch, but Gnat has to butt heads with other strong Anarch identities. I'm not convinced a conditional credit a turn is better than a bad publicity (Valencia), or a card + throwing conspiracy breakers into the bin (MaxX).
BlueHg
40 card deck is going to be good for combo Anarch—I think the Bug/Clan Vengeance decks that have been going around will favor him for setup speed. The conditional extra credit a turn is his secondary ability in my opinion.
StephenBall
While IDs that give you credits have often been considered strong, it's often because they give you credits for basic things, like ETF or Palana. Gnat's credit gain isn't significant enough I feel to justify the downside of having to have so few cards in hand, giving you less options.
dr00
I think Gnat is a great casual ID and only because grindy Jinteki and Skorpios are actually quite competitively viable right now. I think Levy AR Lab Access or some way to prevent net damage or Film Critic to steal Obokata is necessary to survive after your deck is gone. But Gnat does what Anarch does best, just like MaxX, throwing your entire deck in the garbage, lighting it on fire, and digging through the trash to find exactly what you need. Who needs tutors? Just trash everything and find what you need out of the rubbish. One credit per turn is quite strong and can keep paying once your deck is completely gone. Just save some backups. I should be important to note that Ramujan-reliant 550 BMI does not require any cards in your deck to prevent damage, so you can still use it once your 40 card deck is gone.
Neuropantser
Is being 40 cards even good in Anarch? The arguable best deck in Netrunner at the moment is 50, because orange's card pool can support that…
Grog
Gnat seems a lot better than people think. It isn't that hard to have two cards in hand. A single Safety First helps, if you end at a card each turn, and things like Career Fair and Patchwork make it easy. I don't have a build, and to be honest I think Val is still a lot better, but it is a good ability.
tvaduva
Gnat is cute and has a 40-card deck size, that's already pretty good in my book. And, a community callback is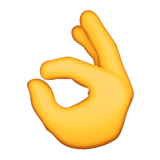 . There's already a pretty strong no grip card already printed, plus some situational ones. And, we get three more in this box. Getting a free credit and a click is really good and worth the risk of facing some net damage decks. But, you don't really have to play into the low grip archetype because the increased consistency and the occasional economic benefit still makes him good. If you're really worried about net damage there's some low influence options you can play (except you have to draw up to steal Obokata) and the number of cards in your grip is not really a factor for meat damage (just draw up to three if you steal a three-pointer). No one wants a kid getting beat up; those clans are right to be vengeful.
Divide and Conquer
---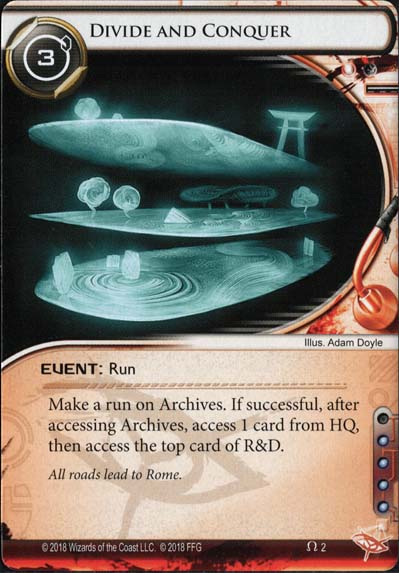 Miek
This card is good entirely because of its synergy with The Turning Wheel. Being able to access the entirety of both servers helps a lot to close the game. I suspect this is probably a 1x in many Val lists, although reading the game correctly and instead just slamming Turning Wheel on whichever server is better might be the correct play.
CrushU
Completely nuts, and finally a decent multi-access Archives card. 4 inf for a reason.
RJayz
As Miek mentioned, this card gains a lot from being played with The Turning Wheel. Potentially less good in Alice Merchant, Omar Keung and Valencia planning to Rebirth into Omar. Corps will be protecting Archives against those identities anyways, making it harder to land this as a surprise. I think most Anarchs will find a way to slot a copy of this in their decks.
BlueHg
Everyone above has good thoughts about this in Anarch, so I'll talk about it with regards to importing it. This, along with Office Supplies also coming out in R&R will both be shots in the arm for Sunny. It combines with Black Hat to become a combined The Maker's Eye and Legwork. Add a The Turning Wheel to that, and you will probably start having to ice Archives preemptively vs Sunny. I think this is too expensive influence-wize to be used a lot in Criminal or Shaper, but you may end up seeing the odd splash in any of the main or mini factions.
StephenBall
Clearly a strong card, this is a lot of cards to access, even without TTW, which breaks it open. Could see this is a 1x in a lot of decks.
theo
The Turning Wheel combo is juicy but I don't think this card is as good as it looks. A 3-cost, very situational run event is *really* costly to put in your deck.
dr00
Ignoring the combo with The Turning Wheel, this is effectively 3 credits for 2 extra accesses. The Maker's Eye and Legwork each do that for only 2 credits, so the math isn't in favor of Divide and Conquer. However, this adds more pressure for the Corp to ice up Archives in lieu of other centrals. Like Sneakdoor for Anarch, this puts more pressure. If accessing Archives is your game plan, the Corp can make it very costly for you to do so. Divide and Conquer can help maximise those runs to get some extra value out of them.
Guinea Pig
---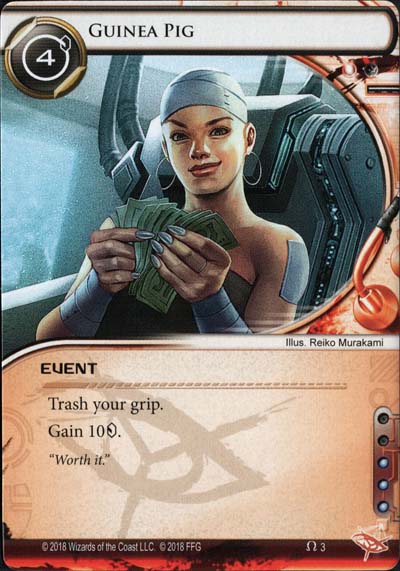 Miek
This is a lot of money, and is very nice when your hand is already close to empty. This is also really serious combo with Patchwork. I've spent some time thinking harder about the actual maths of this. Liberated Accounts is a good economy card, which gives a net of 10 credits for 5 clicks. Compared to clicking for credits, this gives you +5 credits. Guinea Pig is exactly the same, 6 credits gain for 1 click, giving you +5 compared to clicking for credits. If you were to play Guinea Pig, and click for credits 4 times, you would have the same credit gain as just playing Liberated Accounts. Getting the tempo gain in one click is a lot better than taking 5, however the downside of trashing the hand is very real. I suspect Liberated is mostly better, especially if you're at all worried about having to steal an Obokata or not trash something amazing like Inject or I've Had Worse, however Guinea Pig is both more time flexible and gives you some resilience against Scarcity.
RJayz
Gaining six credits puts this on par with Lucky Find, making it very powerful burst economy. The downside is real though – most likely you need the credits to install what's in your grip. This card can supplement the standard Anarch economy, but I don't see people playing the full three copies.
BlueHg
I don't see this replacing any economy in standard Anarch builds, but I could see it replacing Liberated Accounts as an econ slot in this hypothetical low hand size archetype. Non-resource econ is always worth looking at with Scarcity of Resources and Malia Z0L0K4 around, though. This combos hilariously with Respirocytes to get you econ and card draw in the same click.
Grog
I guess I'm a lot more in favor of this than the others. Every Anarch on heap breakers should play this. You can also trash 0 cards so it's actually a really good turn 1 card.
theo
Anarchs could really use some extra economy and if you can play out most of your hand before using it, Guinea Pig could be good. Its numbers are competitive; if you're discarding two cards, it's roughly on a par with Sure Gamble. But there will always be cards you can't play out, and they'll be your most valuable ones – draw cards like Inject and I've Had Worse, and powerful situational events like Stimhack.
tvaduva
In the Zer0 era we've learned it's alright to trash a few things from Grip to get a better payout; this is worth slotting a couple in most Anarch decks and three in Gnat.
dr00
Throw Paperclip, MKUltra, and Black Orchestra in the heap while gaining SIX credits with one click. That is absolutely insane value. With your next click, you can make a run and install most of those programs with the credits you just gained. Make no mistake that losing your entire hand is not a small cost unless you plan to use things like Clone Chip, Levy AR Lab Access, Retrieval Run, heap breakers, etc., but as we learned with Faust, discarding cards for something else is often very much worth it, the main difference here being that you don't get to pick and choose what gets trashed.
Patchwork
---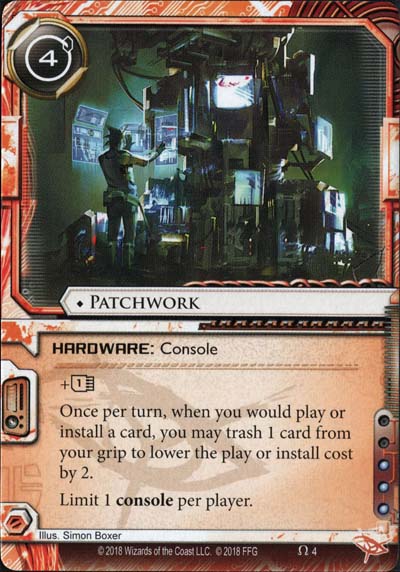 Miek
The numbers on this thing are really good. It won't be long before this is paying itself off, and by putting Patchwork in your deck you will be making insane money. There are 2 downsides to this card. The first is that it's not turntable, which is so good in the current meta, and you have to give up slots for it. The second is the mild anti-synergy with zer0. I suspect that a deck going all in on Patchwork and Zer0 is going to come a lot closer to dying to attrition against regular Jinteki than most decks are.
CrushU
I think the largest barrier for this to be playable is the 4-cost on its install. It seems really good otherwise, though.
RJayz
Powerful economic ability, offset by being a pricy console. As Miek mentioned, the biggest problem with this card is giving up Turntable.
BlueHg
Turns any card in your hand into a more flexible Career Fair-lite. This also helps you recover from lower credit pools, so a runner can go from 0 to 9c in one turn easily with Sure Gamble. This also allows you to go a touch lighter on econ slots and make use of redundant copies of cards (we all remember Faust). Giving up Turntable right now is a hard call, but there will be plenty of decks which make use of this card much more that Turntable.
Grog
Doesn't seem that strong compared to Turntable or even Obelus. The economic benefit isn't actually all that great– you need to install three things for it to be useful, and half the Anarch cards you want are really cheap (Zer0, FTT, sucker), or Career Fair targets anyway. I guess if you're on decks with lots of drip then it's good. Unlike Bloo Moose or something, you're discarding cards that presumably you want (rather than using cards whose value you already gained).
StephenBall
This console is totally busted on an economic level, assuming you have the tempo and card draw. MaxX can abuse this card heavily to gain 20+ credits most games without losing too much. I'm not sold on the 4-cost to install argument, because it can be used immediately to recoup 2 credits. Also counters Scarcity once per turn.
tvaduva
Outside of playing low-grip decks, you can go the opposite direction and go heavy on draw and with your last click use up two cards. It's a bit like Hayley drawing up to seven cards, then spending the last click installing two cards (even if one of them was just to sell to Aesop's). Plus, it can stack with Career Fair/Modded.
Neuropantser
At last, my Exclusive Party/Out of the Ashes tribal deck is getting the support it needs.
dr00
Amazing card. As mentioned in my review of Guinea Pig, being able to pitch cards for value is great. Pitching any card for 2 credits is even better. Only works once per turn and costs 4 to install, but this thing will pay out over time. Obvious synergy with Gnat and Guinea Pig (pitch a card to Patchwork first to reduce Guinea Pig's cost by 2 to get 8 credits), but it has some great general use as well. Throw away extra copies of cards you don't need. Throw away that sweet tech card you included that's no help in the current matchup, like all of those Employee Strikes when you play against the NEXT Design or Harmony Medtech that one guy always brings to weeklies.
Hijacked Router
---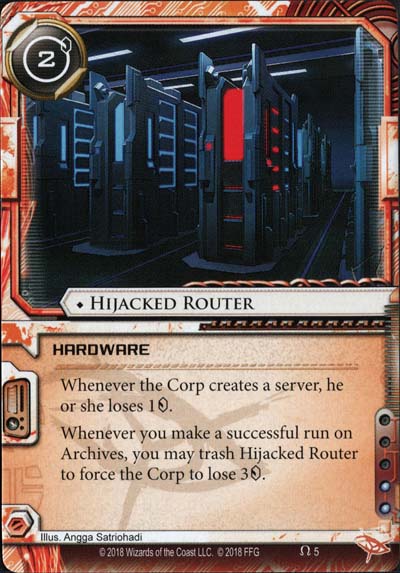 Miek
Hijacked Router is a silver bullet for asset spam that unfortunately you have to find really early, so is therefore a silver bullet that requires 3x in the deck. In a theoretical world where stuff like Moon ETF was the best, then this is a nice card, but in the current meta where cards like Aumakua, Mining Accident, Hacktivist have already kept asset spam down – this card doesn't seem worth the slots. I do like that it has a mild denial thing going on if you draw the extra copies, but slots are already so tight in decks and I don't expect this to see much play.
CrushU
Unplayable. If you want a card to deal with asset spam, you have a wealth of way better options that actually do things to choose from. The secondary mode is an attempt to make it useful against non-asset spam, but you're paying so much just to get 3 credits from the Corp.
BlueHg
Another meta call card, but unfortunately one that would require 3x in a deck for it to be useful. If you get it early, it would be absolutely suffocating for the Corp; an anti-Turtlebacks is nothing to sneeze at. But it's only effective before you get that first Moon off, and after that the Corp normally has the tempo to ignore this for a while, which is why you'd have to find it early and play three copies. This plus Mining Accident may have utility for Corp credit denial, which is something that has been pretty rare since Account Siphon rotated, so I'm sure there'll be people who try to make that strategy work. Unfortunately, with so many people preemptively icing Archives against Omar Rebirth (and the new Divide and Conquer), the denial aspect of this will be less effective than it might have been otherwise.
tvaduva
It's nice to have another anti-asset spam card in the card pool and cool that it still does something if you're not facing asset spam.
dr00
Decent-ish way of dealing with asset spam, only a couple of years too late. It can be quite taxing for a Corp like Near-Earth Hub, and I can't imagine the tax it could have accrued during the days of Friends/Clone Suffrage asset spam, but it's still a decent silver bullet if you're having to deal with asset spam. The main problem is two-fold. First, outside of the asset spam matchup, this is quite useless. Install for two, make a run on Archives, and drain 3 credits? Unless you needed to make a run on Archives, you wasted 2 clicks to effectively drain 1 credit, which is just awful math. Second, Mining Accident is so much better in this instance and still benefits you in the asset spam matchup as well.
Cradle
---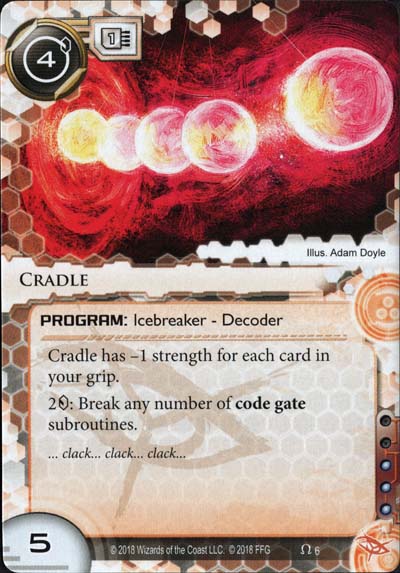 Miek
Cradle is cool and is about the closest we can hope to get for an actual decoder for Anarch that isn't all in on the inject synergy. This is really cool in Null also. Unfortunately, gear check seems to be the big Anarch problem right now, and you will often just use brute monetary force, Aumakua and/or bad pub to make up your issues instead of trying weird synergies to get Cradle to work.
CrushU
Gnat plays this. Again, if a Gnat deck exists, this is a big part of it.
BlueHg
The Yog.0 replacement. Neat design, but I'm not sure it holds up to actual play. It can't be your main decoder because of its restrictions, so you already have to support this with a backup breaker. This is completely ineffective against Jinteki, because you can't break DNA Tracker without support (Datasucker, Ice Carver, Net-Ready Eyes) no matter what, and going low hand size against them is playing their game anyway. This would see play at base six strength, but I don't see many people jumping through all the deck building support (one backup breaker, 1-3 support cards, a deck that already synergizes with low hand size) for something that can't break DNA Tracker by itself. Hilarious against HB though, where you're rarely in danger of kill and can potentially break Fairchild 3.0 for 2c.
Neuropantser
Can't wait to play this and forget to get a datasucker counter before slamming my face into DNA Tracker with 0 in hand.
tvaduva
Really awesome design and it's a bit sad that we don't get more breakers with this design. Players have been playing Yog.0 as their main decoder for a long time, I think they'll get back up to speed quickly. Paying six to nine to get through Fairchild 3.0, DNA Tracker, or Tollbooth is a huge pain, putting in a few cards that are generally useful so you can do it for two (or five in the case of Tollbooth) is pretty compelling.
dr00
Obvious synergy with Gnat, Guinea Pig, and Patchwork from this box, but also a few other cards like Emptied Mind and Pushing the Envelope, but that just makes this a very specialized card that uses new cards or cards that have traditionally been ignored. It's hard to say if this will be good or not, but I think either way, it will only exist in these kinds of specialised decks or maybe as one part of the Voltron that forms onto Baba Yaga.
District 99
---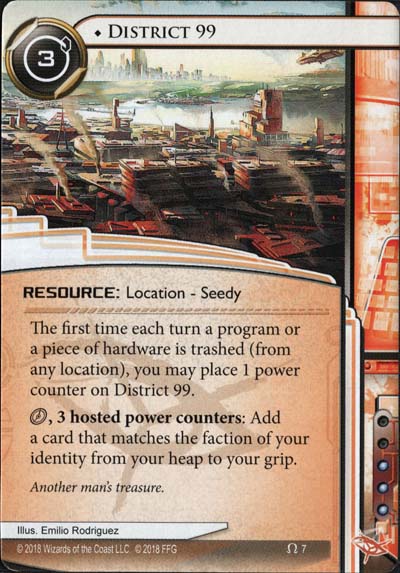 Miek
Repeatable recursion is probably good, even if the conditions on this are pretty nasty.
CrushU
Geist plays this. Ha, you thought I'd say Gnat. Seriously, Spy Cameras and B&E suite. DoF for days. It is only the first time each turn, but that's what Cameras are for.
BlueHg
There's a Shaper Aesop's Pawnshop deck out there that will use this to big advantage. Being able to recur your high-impact events (Indexing, The Maker's Eye, Deep Data Mining) alone makes this worth looking at. Some Anarch decks will find good use for this too. Since it says 'from anywhere', Zer0 will power this up, allowing you to recur that timely Divide and Conquer or Stimhack. I don't think it's quite as impactful as people have been saying, but it's a good card and will see play.
tvaduva
As a seedy location, it slots right into your Populist Rally deck. Most likely it will have a low impact for most deck and be completely abused in a few degenerate decks.
Liza Talking Thunder: Prominent Legislator
---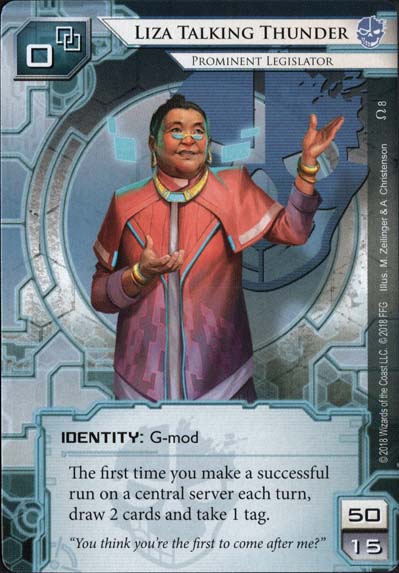 Miek
Tag-me Liza is one of those do or die matchups, where if the Corp has the tech (typically HPT or Psychographics) then you just lose, but if they don't have the tech then your inevitable steamroll power will almost always be victory. One of the problems tag-me has in this post-siphon meta is generating enough tags in time to close out the game. Liza (and some of the other R&R cards too) definitely helps with this, and what you're left with is the best multi-access card left in the game once you get it all working. I like that Liza has potential in a tagless matchup too, using citadel to clear the tag. I don't know if she'll be quite the best Criminal to play, because of the inherent risks of her game plan, but I think Geist and Maxx have both proven that IDs with frequent draw are strong even if they have downsides.
CrushU
If Liza doesn't see play, it'll be because of the 50-card deck. This is where all those Power Tap decks are supposed to go.
BlueHg
Any blue card that says 'draw' is worth looking at. This combined with the Thunder Art Gallery below can really speed up Criminal setup speed, but getting the economy rolling to consistently clear the tags you accumulate is going to be an essential part of deck building for her. She'll be a good shell to build that Power Tap deck out of, but having no Link slows that process down some. There's a powerful Liza deck out there, just from being able to play and draw blue cards, but I'm not sure what form that'll take. Also worth noting is that she's a G-Mod, so can be used with DJ Fenris.
Grog
Worth noting that Qianju and Pancakes work. You have become Thunderfork! But also, the ID seems quite good with the resource, but it's a lot more setup. The ability is quite strong, but I'm not sold on this over just 419 and the good cards below…yet. Oh, also Dorm Computer works here. Play all the wacky cards.
tvaduva
With Liza, Criminal gets much needed card draw and returns to the central server theme. Without starting link, I'm not sure how consistent it would be to just switch the Nexus 419 deck to Liza and add five cards. The other thing to keep in mind is that the two card draw and tag are not optional. It'll definitely be a meta call if you want to play her tag-me or lean into the tag removal/avoidance that does add some synergy. I like the design of this ID, pretty much every aspect leads to interesting decisions and is strong enough to compel us to consider those decisions.
dr00
Criminal card draw has always been very odd. On one end, you have amazing cards like Aaron Marron and Andromeda. On the other end of the spectrum, you have things like Blockade Runner and Mr. Li that let you get more value out of your draws but you don't get get more draw per click. Then things like Bug Out Bag and Drug Dealer that quite literally turned credits into cards, but not at a decent value if you look at the math on Earthrise Hotel or Quality Time: draw cards equal to 2 + the number of credits you pay for the card.
If you can ignore the tags, drawing 2 cards for making a run is absolutely amazing value and exactly the kind of card draw Criminal needed. The recent release of High-Profile Target makes this prospect quite risky though, but if you're going tag me, Liza is an amazingly consistent ID ability to build your strategy around. And if you're planning to avoid the tags, give a look at Dorm Computer. I think it's seriously great here, especially with the Gallery (see that review for more). I think Citadel Sanctuary and Power Tap will be strong here as well just like in other IDs, especially due to the consistency that you can make yourself tagged to trigger the Citadel trace and get paid by your Taps.
Also, it was mentioned earlier that her ability is not optional. I also think it's worth noting that not only is it not optional, but that you gain a tag even if you don't have any cards to draw (or can't draw due to some card effect).
Hot Pursuit
---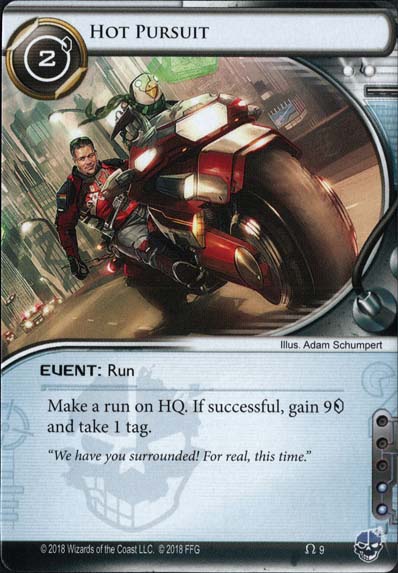 Miek
Net 7 credits is a lot. This thing is equivalent to getting a Bank Job off. If you've built your deck right, the tag is either not a big deal, or potentially even an upside.
CrushU
The only downside to this is the requirement of an HQ run. Seven credits is big game. Jesminder likes this card a lot.
BlueHg
They split Account Siphon into two cards, and this is the other half of it. A lot of decks will play this, simply because a lot of Criminal IDs have synergy with event HQ runs (Gabe, Steve, Liza). This is good, and may even be imported into other factions for its power (Anarch tag decks, Jesminder). Bonus points for the rainbow flag patch on the guy's jacket.
StephenBall
I've been trying to play some Criminal decks recently, and the problem if you don't want to go down the path of snoozy drip econ packages is that you just don't have money. This is a lot of money in one card that also gives you an access. Very good card.
Higgs
This seems like a good card to have when you're trying to stay afloat against a Scarcity glacier, which is absolutely miserable for Crim at the moment.
Whiteblade111
I don't think it is good, for a variety of reasons. It's great against an open HQ, but most of the decks that run an open HQ (rushy CtM and other FA stuff like Titan) Crim right now doesn't really have trouble with. Some of the worst matchups for Crim right now are glaciery matchups, that aim to lock turtle out, and then score out. Hot Pursuit is garbage in these matchups. Usually HQ has 1-2 ice because of the doof and legwork threat, so you need to break the ice to get the access, meaning you'll probably profit roughly 1-2 credits on an HQ run, depending on the ice. Never mind that no regass Crim or Geist wants to clear a tag, so if you manually clear this tag you make even less money. The one archetype I could see it slotting into is some weird power tap citidel liza build, but because it makes you so few creds when taking into account the ice on HQ, I think you could play better cards.
tvaduva
The downside of using Dorm Computer as your tag solution, is that you can't use it with run events like this, but it literally/thematically works with Qianju PT.
dr00
When I first saw this card, my brain just tricked me into thinking it was a replacement effect, that it was the other half of Account Siphon that gets your money and tagged, but this still allows normal accesses and abilities. I think if you're just running for credits, this card is bad, but if you're making a run on HQ anyway, that you wanted to make, it's extremely good. Turns on Maxwell James, Emergency Shutdown, or a myriad of Criminal IDs like Gabriel Santiago, Steve Cambridge, and Silhouette. The value turns up even higher if you don't care about the tag or can find an easy way to deal with it.
I see this card as much more limited Temujin Contract, paying out only once, on one specific server, but doesn't interfere with any other your effects or abilities and can help subsidize a run on HQ if things are getting expensive.
Paragon
---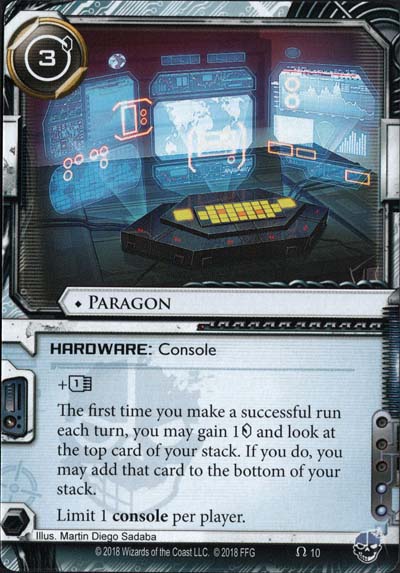 Miek
People keep comparing this to Desperado, but this only gives you 1 credit a turn, and is more similar to an Underworld Contacts. However, I still think this card is very good. It's a Criminal console with playable stats, and now that bankroll is out you actually want the MU.
CrushU
Honestly as long as you're only running once a turn, this is better than Desperado, which is kinda nuts to say. Desperado's real power was in making multiple runs and getting paid for each, which this doesn't do, but simply getting paid for running is something that hasn't been in Criminal since Desperado rotation and Temujin ban. Security Testing might actually see play again.
BlueHg
Pretty good, and is the only playable Criminal console (outside of Forger in Geist). It'll see play simply for that reason. There's enough high impact run events that you'd only want to play once a turn anyway that an Underworld Contacts with more upsides is pretty good.
StephenBall
I always hear about how good scrying is in Magic, and the only decks that draw as poorly as Magic's one card per turn is non-Geist Criminal decks. The credit is a nice enabler too, and allows Security Testing (my all time favorite econ engine) to be playable again. Just happy to have a good console in Criminal.
Neuropantser
At last, my Oracle May tribal deck is getting the support it needs.
Whiteblade111
This is solidly good, and Criminal just needs good cards. Most Crims atm are making targeted runs to fire good events or pressure remotes, so limit once a turn isn't an awful restriction. Pseudo draw and money is a good combo, and the price is right. Look to see it slot into any Crim deck that is on a standard money and breakers gameplan. Geist won't play this.
dr00
As mentioned, if you only make one run per turn, this is better than Desperado. I think with the decline of asset spam, making repeated runs every turn isn't as common anymore, so I am actually fine with Paragon as a Desperado replacement. I think I would probably still prefer Desperado if I could have the choice, but being able to filter your card draw or check to see if spending a click to draw is worth it is a decent addition.
Bankroll
---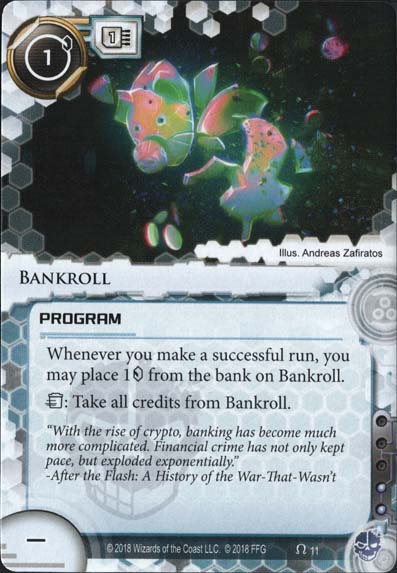 Miek
Now this is the real new Desperado. This card is very very good. The fact that you have to bank the credits is both upside and downside, leaving you protection against closed accounts but making you vulnerable to the Hard-Hitting-News unless you're willing to trash it. The trash ability also adds a lot of decision making in the game, as its quite easy to find yourself in a situation where you end up trashing this for minimal value because of misreading what the Corp is doing. I like this a lot, and I suspect Criminal will be very strong with this in the meta.
CrushU
Difficult for me to evaluate. Like Jackpot!, I think this card is worse than people think it is. On the other hand, the trigger is way easier to get access to. But only getting it once is still problematic. One interesting thing to note is that Geist *really* likes this card, too. Along with District 99, I suspect Geist may see a resurgence, which is impressive, since he's still good anyway.
BlueHg
This is very strong. Criminal doesn't play a lot of utility programs, so they'll likely be able to have one or two of these going at any time. It reminds me of Tech Writer a lot–it'll be a card that the Corp nervously eyes as they look for a scoring window and builds higher and higher. Difference being, this card grows in proportion to aggression during the game, so it's probably even more dangerous. Combine this with other run triggers (Find the Truth, Datasucker, Paragon, The Turning Wheel) and you'll get a lot of value during regular runs and not necessarily going for a score or other run event.
StephenBall
Basically echos a lot of my thoughts of Paragon, and I'm happy to see cards that get back to Criminal roots of actually running.
Neuropantser
I'd say "can't wait to have two of these installed then faceplant into a Tithonium," but this pops at instant speed. Well played, Boggs.
theo
This card is not unique. That's a really big deal.
Whiteblade111
Money is pretty great, and non resource run economy is a great package for it to come in. This card is pretty great. Due to the delayed effect on getting the money compared to desperado, it's just great, not busted. Obviously this slots into a majority if not all Criminal builds, the question is will Anarch play it? I suspect not, because of the anti synergy with inject, but in a world with zero instead of inject, we might see some val lists slot bankroll.
tvaduva
There's so much to like about this card, it's a program making it easy to recur, it's cheap to install and not unique, it's only two influence, it encourages running, it's got a trashcan, it has animal art… Expect to see this in all kinds of Criminal decks and beyond.
dr00
How I wish (and originally tought) DaVinci could have been. And I actually prefer the trash icon instead of click here to get your credits. Even though you cash out completely when you want to get paid, don't underestimate the value of being able to get your credits at paid ability speed. With Desperado gone and the replacement Paragon only working once per turn, I'm 100% ok given that we have Bankroll. Also it's competing heavily for my favorite art of this set.
Tycoon
---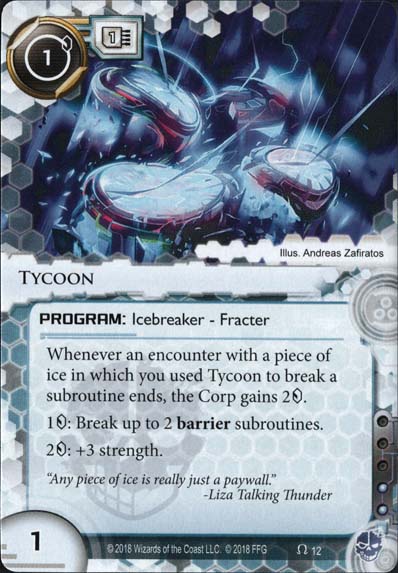 Miek
This card is probably the weakest Criminal card in the box, but is still quite good. The downside is real, but maybe not as problematic as people think it might be. You typically want to Aumakua most of the time as Criminal, and this has excellent stats for when you just need to get in anyway, or when you are making a game winning play. The low install cost is great for turning off wraparound only for aumakua to get in anyway, and if you're doing something like Counter-Surveillance Liza then you don't care about giving the Corp money when you're just about to win. I suspect a regular 419 type build might want to have Hunting Grounds in their list if they're relying on Aumakua with this as their barrier backup. Given the sorry state of Criminal barrier breakers, I wouldn't be surprised if this saw a decent amount of play.
CrushU
This looks unplayably bad to me, so someone's going to make a ridiculous deck with it. I'd rather run Saker.
BlueHg
The numbers are pretty excellent, but any deck that relies on regular breaking won't want to give the Corp money to rez more ice. This card will see play in Aumakua decks which don't want to import a fracter, and that's pretty much it.
StephenBall
Certainly this is just to get in to charge Aumakua again, as the downside is pretty heavy. Triggers Pad Tap I suppose.
Neuropantser
I, for one, am glad to know I can Diversion the Corp for full value when they have 3 credits and a Vanilla on HQ.
Whiteblade111
This slots into Criminal decks on a non standard breaker plan, such as Nexus 419 or Pirate Geist. You use it to break high impact barriers that you don't want to bypass/pirate past, and you just live with the upside. 2 credits is too much for a denial or regass plan, even if the stats are good.
tvaduva
Breaks a few barriers more efficiently than Paperclip (Endless EULA, Hadrian's Wall) and a lot of other barriers at the same cost or for one more credit, which would have been a bit more impressive if Laamb didn't exist. But, if you're taking all the Corp's credits anyway, giving them a few credits to get in cheaply is not the worst idea.
Ion_Fox
I actually think this has a home in a few places: Non-standard Crims as mentioned by Whiteblade, but also in builds where its effectiveness outweighs the Corp gaining money such as in Iain perhaps where influence is already tight (and triggering PAD Tap on your own turn is just a bonus). The last place is in a Crim Baba Yaga build (hey it could happen) consisting of Tycoon, Faerie and Cradle.
dr00
Like Cradle, I think this card is extremely niche. It triggers PAD Tap and helps Tapwrm pay you more. It can also give the Corp some money if you want to Divert their Funds, but that's probably not a good use of either of those cards. A non-obvious use I think is helping the Corp get paid so they can rez ice if you're Los.
2 credits per barrier builds up a whole lot after a while, so you have to be able to plan for not caring how much money the Corp actually has, not running as often, or going even further into credit denial strategies with derez effects and Diversion of Funds. Your deck will be doing a lot of work carrying Tycoon around on its back if you opt for the latter. You could also plan to have a backup breaker but at that point, you might wonder which breaker truly is the backup and if there aren't better options.
Thunder Art Gallery
---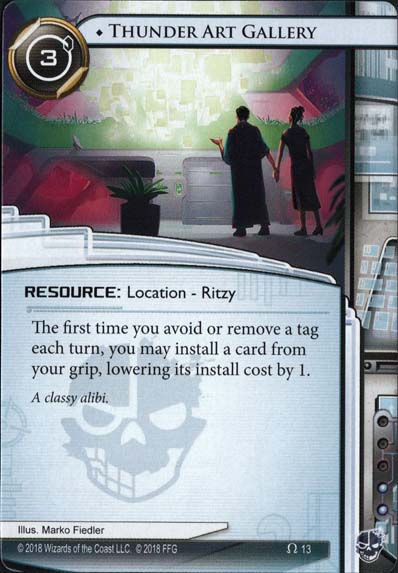 Miek
The click efficiency on this card is cool, and slots in really well with Liza, or even just using a lot of the tag generating cards from Kitara in a citadel style list. One of the downsides of this card is that it gives you the most value when you're already setup, in which case you don't need it as much anymore. I suspect this won't see much play, but its hard to know.
CrushU
Intriguing. Liza plays this, and also Jesminder, I suspect.
BlueHg
Hard to evaluate for the reasons Miek mentions. Synergizes with Rogue Trading but I didn't #dothemath to figure out if that combo is worthwhile or not. Also, @inniscor pointed out that this combos with Patchwork to get you a clickless Career Fair on anything. That combination definitely has potential.
Neuropantser
Not sure the Taps decks need another fiddly setup card that's at its best when you've already won the game.
tvaduva
It makes the other tag avoidance/removal cards (Dorm Computer, No One Home,the bike, the bot, the deuce, Crash Space, etc.) pretty playable. And, Citadel Sanctuary that much better. It's clear that this was designed with Aaron Marrón being banned indefinitely, because together they are bonkers.
dr00
At its very basic value, you basically have a once per turn Networking (as long as you have something to install). With Crash Space, you save 1 credit per turn every time you ditch a tag, but you paid 5 to install and two clicks, so that isn't really all that worth it. But this lets you install mid-run with Liza and Dorm Computer. Install at the end of the turn with Citadel Sanctuary. Install on the Corp's turn with things like No One Home or On the Lam. Install any time you want with Forger. This card card can combo well with Corporate "Grant" if you include tag removal that triggers on the Corp's turn. You'll need lots of things to install, so goes great with Pirate decks, Geist (that takes tags), and Citadel Sanctuary (since that is a lot of pieces).
Miss Bones
---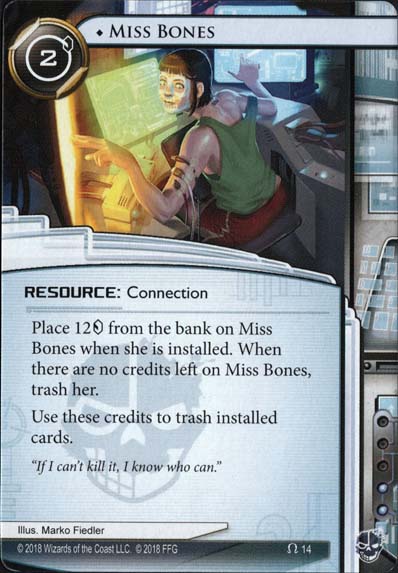 Grog
Seems a little overrated. It's a lot of money but only against asset spam (cards have to be installed). I expect asset spam will be pushed out a lot more by Bankroll/Router than by this.
Miek
I partially agree with Grog on this. This card is very strong but niche. I disagree that Router will be a bigger problem – I think that Router will never see play because by the time a Router meta would have evolved, Bones will have taken care of it first. I do agree that bankroll is likely to make both of them irrelevant, as it is much more generically powerful.
CrushU
The real problem with this card is the 'Installed cards' limitation. The rate on it is good, because you can compare it with Scrubber. I suspect Scrubber is the better card, which rates this one a Crim-only card.
StephenBall
I think this is a really sweet card, but it doesn't fit in the current meta. I don't think the installed cards limitation is as significant as people before me, as those are the cards that most desperately need to be trashed, and this is the best card we have at trashing a lot of installed cards.
Neuropantser
If CtM somehow stays in the meta with Bankroll and Router around, this does help a ton with the "trash 3 things in a turn and then clear 1 tag" approach. That may be a big if.
Higgs
At the moment most people just leave Jinja / Stinson in remotes. Maybe this card will change that play pattern?
tvaduva
It's nice to have another anti-asset spam card in the card pool for Criminal as well as deal with those unpalatable high trash costs cards in glacier (as Higgs pointed out).
dr00
I don't really have much to add except that I think it's still good in spite of the limitations. Yes, only installed cards is a huge downside, but it's a click for ten credits that you can use immediately to start trashing cards.
Akiko Nisei: Head Case
---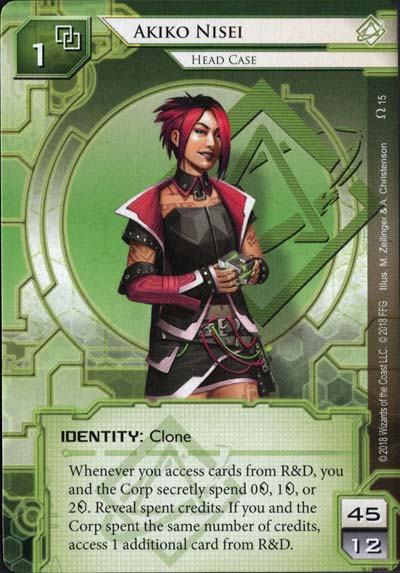 CrushU
This ID is sweet. I'm pretty sure this is good, even if all it does is make the Corp pay 1 every time you access R&D. Also, she has a link for some reason. … Wait, why doesn't Liza have a link…? Hmmm.
BlueHg
This ID pretty much says, "Runner has R&D Interface unless the Corp pays 1c during access." Which is great. Remember how annoying Lamprey lock can be? Synergizes well with the other Shaper cards coming out this pack too. 12 influence is worth pointing out, but the ability is powerful, so it's probably appropriate. I like that this encourages aggressive running. More #realnetrunner. I have to assume the Link is a thematic one to her sisters, but maybe it's relevant in making her the Nexus Shaper of choice.
Neuropantser
I look forward to being proven wrong, but I don't think starting as Nisei is worth the 3 influence and the fact that you give up Hayley clicks/Ayla or Wu setup/the opponent having to read Nasir/etc. I think Shaper does get a second legitimate rebirth target thanks to Nisei, though.
Miek
Yeah as others have said I think this is mostly a denial ID. I suspect the only time this comes down to actual Psi game wires is when you're doing a last ditch TTW/DDM/TME run on R&D when you know there's the winning agenda in a remote you can't contest. I think the 12 inf but 1 link thing is pretty interesting, but dunno about good.
tvaduva
Really strong ability since it says whenever. How often are they going to bid one if R&D is open? Corps usually give up three points instead of playing the psi games multiple times for The Future Perfect. Might lend itself to a ice destruction/bad publicity archetype with built-in denial. Might be worth considering Government Investigations as your counter-current of choice if the meta already has a decent number of psi games.
Insight
---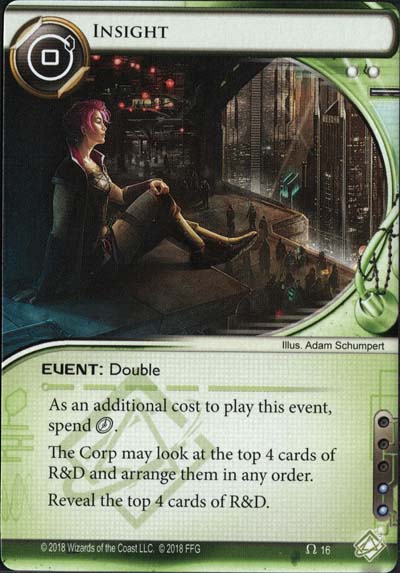 CrushU
There's been people saying this card is good. I'm not one of them. If you want to run Top Hat, then sure, this card's great. This card being a Double is another strike against it.
BlueHg
Too many upsides for the Corp. There's an old saying that you need to evaluate a card by worst case scenario, and the Corp getting to rearrange four cards is very strong for them. Knowing what the Corp will draw has uses, but normally 'information' cards have to have some other upside to make them playable (look at Falsified Credentials or Embezzle vice Infiltration). Maybe Clan Vengeance decks use this? Doubt it's playable.
RJayz
A large part of Indexing's power lies in the Runner getting to choose the order of the R&D cards, putting agendas on top if they can run again, and burying ice / economy. Insight does not require being able to break through R&D, but letting the Corp choose the order is too much of a downside for this to be good IMO.
Neuropantser
Between this, Anansi, and CBI raid, at last, my "let the Corp stack R&D" tribal deck is getting the support it needs.
Miek
Top Hat + Insight is a cool combination, but I think the people who are saying that it will replace Indexing are kinda not understanding the power of 5 vs 4. There's also the fact that a 2 card combo is inherently less powerful than a 1 card one. If there's an open R&D turn one and you think it's safe to go in, then you're a lot sadder to see insight than indexing.
Mind's Eye
---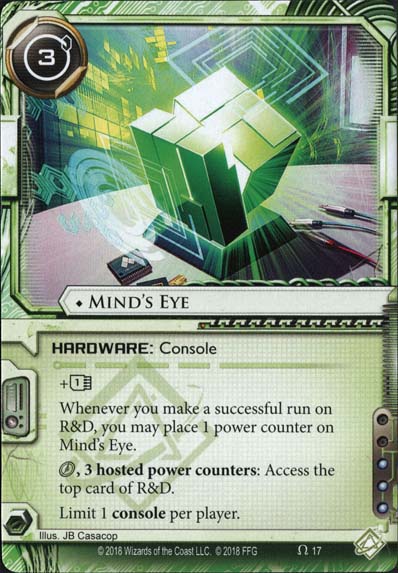 CrushU
As long as you have some way to see the top of the Corp's deck (Spy Camera, Globalsec Security Clearance, Deep Thought), then this card looks pretty good. One thing that's mildly interesting you can do with this and GSC is forego the GSC on turns you feel like checking R&D anyway to charge it up to use on later turns. The biggest drawback here is the 'Console' keyword.
BlueHg
Agreed with CrushU. Astrolabe will be less useful since R&R is pretty focused on hurting asset spam, so maybe this becomes the Shaper console of choice. Combines with Akiko and Black Hat too, which is neat.
theo
Mind's Eye is expensive to install and takes a long time to pay off. If you can get into R&D easily enough to charge it up, why do you need it in the first place?
Miek
Also not super sure on this card. I feel like reliable R&D runs just aren't that easy, and the kinds of runners who can do it (most notably.. Smoke) probably don't get a lot of value out of this ability. Nyashia and Akiko herself seem like the only real in faction synergy here.
tvaduva
It'll probably be the most common Shaper console if you're not expecting a lot of asset spam. You'd probably want to play three to get it early and charge it up and wait to use it when R&D runs are expensive.
dr00
I think this card would have been a lot better if R&D Interface still existed. Doesn't work with Top Hat. Doesn't work with The Turning Wheel. It does work with Black Hat though. All of that said, it's decent. What's more, it works on runs with replacement effects, so it absolutely works well with Indexing imo. Also it basically makes every 4th run on R&D 'free', so make sure the Corp remembers to punch your R&D loyalty card.
Mâché
---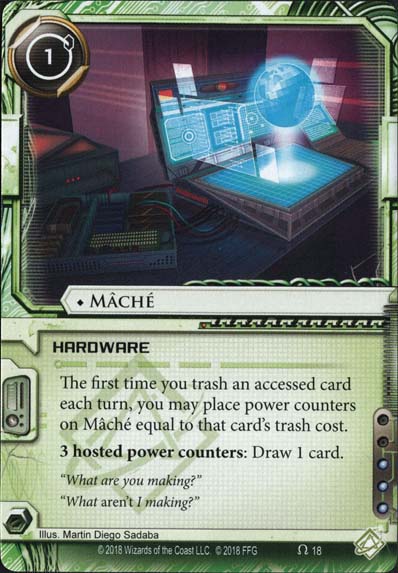 CrushU
If this were not unique, I'd say it's better than average, maybe even Good. With the Unique typing on it… I'm not as sure. One thing that's interesting is that if you use Imp or Kim to trash an Operation, you don't get counters on this. Astrolabe is a better anti-asset spam Shaper Hardware.
BlueHg
This card's efficacy strongly depends on the composition of the Corp deck, which means I put this in the same group of cards as Aeneas Informant. Good when the meta calls for it, unplayed otherwise. Considering Miss Bones, Router, and Bankroll, I don't see this card getting a ton of play. Corps are mostly running Rashida, NGO, and upgrades, so it'll take a while for you to even benefit one card off of it.
Miek
Agreed with BlueHg. This is the worst of the 3 (4 if you include bankroll) asset answers in this box. This is unlikely to ever see play, because the meta that would allow asset spam would be hard countered by one of the other cards first, or if better than Ms Bones/Hijacked Router, would simply be too fast for Mache to be of consideration.
tvaduva
The fact it's only the first time is not that great for countering asset spam, but getting card draw while keeping their board in check does help a lot. Getting counters for the trash cost is really nice. Freedom probably wants this because getting almost two clickless draws for trashing Stinson, Jinja or MVT is really awesome. Also, the fact that it's clickless draw helps against damage decks.
dr00
If this were lower influence, I'd love to import this into Anarch or Criminal for some extra card draw to help subsidize staying on top of contesting the Corp's trashable cards, but I'm just not really seeing it here in Shaper with the multitude of card drawing they already have in faction.
Ika
---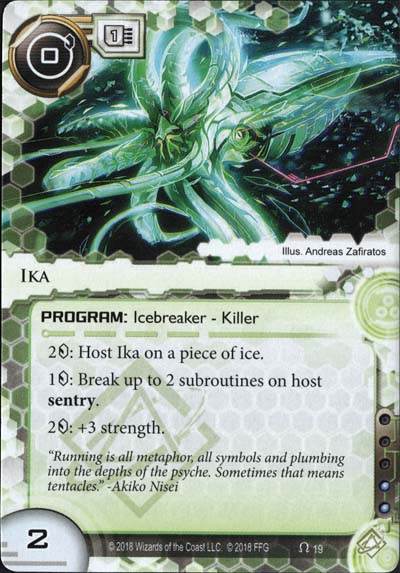 CrushU
The biggest problem with this card is that the Corp can trash it. It compares favorably to Mongoose, being better on a single ice, and better on multiple, since you can actually use it.
BlueHg
Shaper already had the best Surveyor killer in Na'Not'K, but this might be even better. 0 install, 3c for 4 strength Surveyor, and 5c for 6 and 8 strength. As CrushU said, the Corp can trash to kill this, but I'm not sure they want to get rid of a 5c high-value ice to do it. Same for other sentries this is good against, such as Anansi. 2c is peanuts to make this thing hop onto different ice, so it'll see play, and create interesting decision space for both the Corp and the Runner. It does have the awkward Clan Vengeance timing window issue of being able to move around anytime you think the Corp is thinking about trashing ice, which is a consideration for timed tournament play. Overall, I like it a lot.
Neuropantser
One cute aspect of this card is that you don't have to host on a sentry. There may be corner cases where it's correct to throw Ika on a more expensive non-sentry after breaking to punish the Corp for trashing it.
Miek
I feel like this card needs clone chip really. It's fun but probably not good. There is some talk going around about this having good synergy with Flame-Out, as you can boost and move with flame-out credits, and use real credits to break. Since it is no longer hosted, you don't trash the Ika. Seems cool, but I still worry too much about the Corp being able to trash your breaker on demand.
tvaduva
Really fun to see Boggs play with some of the Caissa mechanics. I'm not too worried about Corp trashing ice to trash it, because this becomes almost exactly a Parasite.
dr00
I think the breakers in this set have been designed to be quite niche, but I think Ika is the most broadly playable of the three.
I also don't think that this is a main breaker. Or at the very least, you're running 2-3 copies of it, and it's a decent kit for the toolbox. If you suspect the Corp will install over the ice you left it on, consider paying a couple extra to put it on something expensive. If the Corp trashes an Archer to get rid of it, I think you've come out way ahead on that deal.
Kyuban
---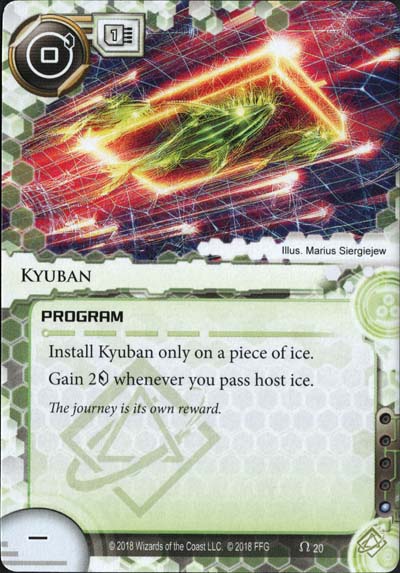 CrushU
I like this one. I'm not sure it's actually going to see play, but I like it and think it's clever. Valencia might end up playing this more than Shapers, though. The card really likes bad publicity.
BlueHg
This is a neat card, and also works on unrezzed ice. A one-turn 0c Magnum Opus on a card the Corp can't rez is strong, and even better if the ice sticks around a while. Combo decks with DDoS may have a way to take advantage of this as well that I'm not seeing quite yet. At the very least it subsidizes repeated costly runs on a server which synergizes with all the run effects we've been seeing get popular (The Turning Wheel, Datasucker, Bankroll, etc.).
Neuropantser
Ah, Parasite. So good to see you again. You did something with your hair.
Whiteblade111
I don't think this is good for regular play, but someone is going to create a dumb combo deck with ddos or something else, and I'm gonna hate it.
Miek
I think Shapers are pretty full on their rig already, but this probably has the most potential as a card for making R&D repeated accesses easy for the mind's eye. Given this + Psych Mike it might be possible to get in every turn with Akiko. I can't quite see it working, but it'd definitely be interesting to try.
tvaduva
At only one influence and with no rez requirement (as has been noted already), a derez deck might want this. I'd like to try it in Los.
dr00
At one influence, this will see play a lot. It's not amazing but decent. If the Corp trashes the ice it's hosted on, you're come out ahead there I think. If they don't, it helps you subsidize every run on that server like a mini Temujin.
Psych Mike
---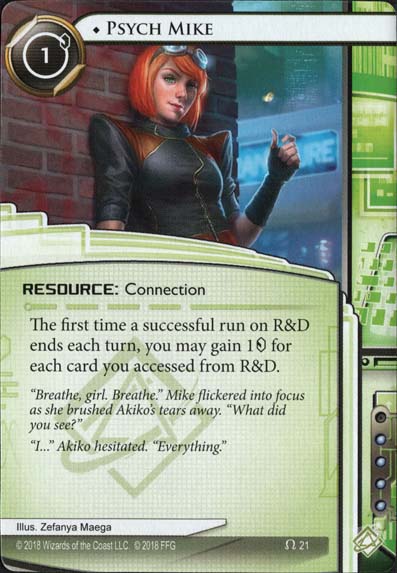 CrushU
If anything keeps this card from being played, it's how low impact the card's effect actually is. It's still a good effect, and it's cheap enough to play, that it's not a bad card, just perhaps not good enough.
BlueHg
As I said above, this encourages successful play and synergizes with successful run events. There is going to be a Severnius Stim Implant/Obelus deck that'll use this to gross degree, and may help out Counter Surveillance decks if those ever come back into the meta now that High Profile Target is around. Another combo piece that's playable in non-combo decks. Maybe a 1x in Shaper decks.
Miek
I'm sad that the Hades Shard + Obelus trick doesn't work here. Psych Mike specifically says the cards must be accessed from R&D. I guess the design team learned from Obelus.
tvaduva
The simple case is for Akiko, where this pays you back for bidding non-zero sometimes. A couple of eXers is almost like Temujin on R&D, but is fragile. The Turning Wheel, The Maker's Eye, and Deep Data Mining gets you a bit of profit; easy slot for Pirate Hayley.
dr00
I think this is just a decent card. Combine with Nyashia, The Maker's Eye, and Deep Data Mining, and Shaper can start getting a decent R&D lock again. The four influence will discourge playing it with Black Hat and eXer, but there's some obvious synergy there as well.
Algernon
---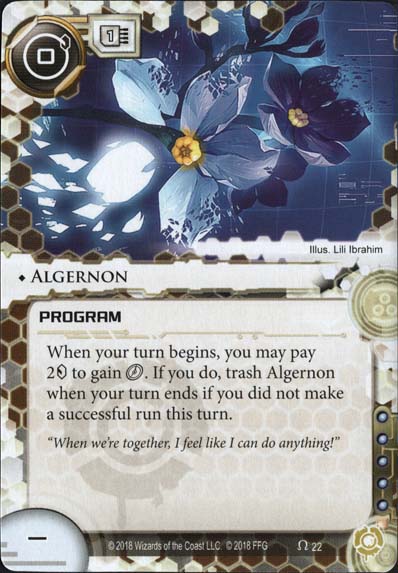 CrushU
Adam plays 1x of this. Doesn't have the MU or money early to use it, but later can just dedicate a Multithreader to getting 5-click turns when you plan on running.
BlueHg
Cool flexible card that I don't think Adam quite takes advantage of. Maybe an Apoc deck uses this? It's clearly designed to try to make Always Be Running more playable, but you can't use ABR twice in a turn, so I'm not sure what that really helps. I rate this a maybe/10.
Miek
I don't really get this card at all. I think it's weak even for Adam-only uses. I know some Adam players thought it was cool though, so I'm willing to be wrong here.
tvaduva
People used to say the value of a click was somewhere around three a while ago. I'm not sure what the market value of a click is nowadays, but getting an extra one for two credits seems like a good option. Being able to have another use for Multithreader makes the choice even easier. Plus, the art is great.
Reboot
---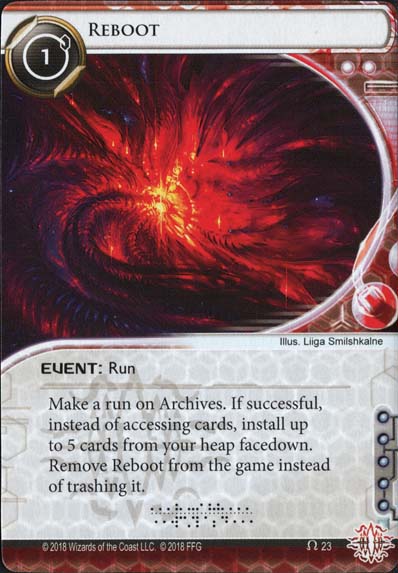 CrushU
This looks odd. I'm pretty sure that if Assimilator didn't exist, this would be unplayable. As it is, only Apex wants this.
BlueHg
An Aesop's deck might want this, but Reaver is a much better include for five influence and they're already influence starved. Apex will use this for Aesop's/Assimilator and Chop Bot/Levy builds, but it doesn't really shore up any weakness of Apex's, so I'm not sure how this helps Apex much.
Miek
This thing probably too good in pawnshop if it was low influence, but Apex himself can play pawnshop now, so you can essentially read this as "slowly gain 15c" with the additional "maybe recur a card with assimilator". I think it is decent for Apex but unlikely to see play outside of him like some of the other Minifaction cards do (FTT, Emergent Creativity, Nexus, Apocalypse, Consume, etc..)
tvaduva
Now that Apex can install cards facedown from the Grip, Stack, and Heap, it means the end has come…
dr00
I've seen a lot of disappointment over this card, but I think it's actually quite decent. With Assimilator, it effectively works like a tutor for most installed things, but I think its greatest value is simply installing a bunch of extra fodder for Apex cards like Endless Hunger, Prey, and Heartbeat.
Office Supplies
---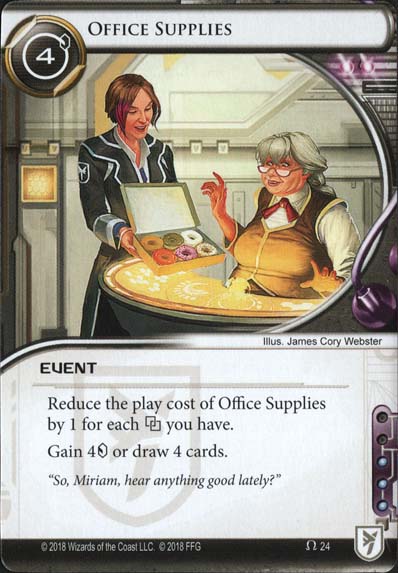 CrushU
Holy… This is exactly what Sunny ordered. This is velocity in the early game while remaining relevant later on. Theoretically other decks could play this, for a 3-influence Quality Time-lite effect, but Sunny is where this shines.
BlueHg
Unlike the other two minifaction cards, this is staggeringly good for Sunny. Her main weakness has been card draw, which this card shores up incredibly, and only gets better as she gets more set up. I don't think other factions play this, as it's most effective when you're already set up, which means you don't care about draw as much. Even for a dedicated Link build it's just late game Sure Gamble 4-6, for which Falsified Credentials is a more flexible slot and cheaper in both credits and influence. If there's a Link deck out there that uses Levy, maybe. Sunny just got a shot in the arm with this card though, so time will tell if she's actually competitive now.
Miek
Not only is this card really good in Sunny, but it's also a consideration for import elsewhere. At 3 influence it's probably too hard of a sell in regular Netrunner, but I can imagine it being a great include in low card-pool formats. My biggest concern with this card is that it's going to push Sunny too close to Tier 1, and the Sunny indomitable late game is not my favourite Runner style.
dr00
Everyone said mostly what I wanted to say, but I wanted to evaluate the math on this card. For Sunny, your minimum value is 2 credits for 4 cards, which I think is perfectly in line with Quality Time and Earthrise Hotel's math of 2 cards + 1 per credit spent. If you get any more link, it's just even better. But even at 0 link, the math can potentially be in your favor if you simply need to find a particular card or have plenty of ways to generate credits.
If you gain credits, spending 2 to make 4 is just not great. If you spent a click to draw and a click to play, you could have simply spent two clicks on credits instead. If you have 3 link, it's an Easy Mark you paid 1 for, and 4 or more link, it's a Sure Gamble you pay 0 for.
So if you choose credits:
0-1 link: terrible value (especially since you spent 3 influence on this)
2 link: neutral value
3 link: slightly positive but still meh value
4 link: amazing value, but you still have to consider you could draw 4 instead
So all things being equal in terms of what you need (credits or cards), you should play Office Supplies to draw cards almost all of the time. Unless you really need the money and right now, I don't think there's really a choice to be made here unless you have 3-4 link.
DJ Fenris
---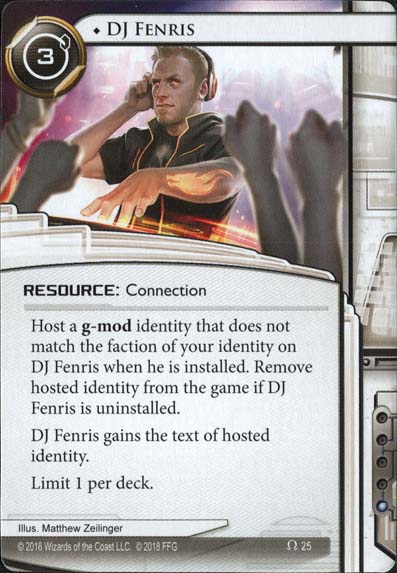 theo
The eligible g-mods include Steve Cambridge, Quetzal, MaxX, Hayley and Geist. Is Steve Cambridge's ability worth 3 credits and an influence? Maybe if you've also Rebirthed into Omar.
CrushU
Neat. Does he use a Turntable? I think he's good, and Steve's one of his pals.
BlueHg
Now playing: Rebirth Remix. There's lots of cool combos with this. Double pirate is probably the most effective that I see being played, but going Liza early/Steve late in Jesminder or Sunny could be really effective.
tvaduva
Don't pick Smoke.
Inactivist
I look forward to the judge calls on only being able to use Fenris on G-mods, not G-Mods, because the usage is split roughly down the middle.
---
That's it for us for the Runner half of the pack, check in tomorrow for the conclusion for our final ever pack review. It will be a somber affair. Bring cake.