Hello RUNNERS of the NET! There are going to be some CHANGES around here!
RC has gone for a VAPE with SMOKE, so while his BACK is turned, it's CAPS LOCK INTERN here bringing you the GOOD NEWS from my NEW JOB at NISEI PLAZA! I know that our favorite HOBBY may appear DEAD to the NAKED EYE, but I am here to ASSURE you all that it is very much ALIVE! This is not the END OF NETRUNNER but instead a REBIRTH (although that's possibly getting BANNED). Now that the BLOCKADE on NISEI PLAZA has been LIFTED, let's discuss what's coming up soon and the EXCITING ways you and your PLAY GROUP can ENGAGE with the game.
Let's start by getting HYPED for the Q1 GAME NIGHT KIT! In it you'll find SIXTEEN alt-art RASHIDA JAHEEM, THREE alt-art TITAN TRANSNATIONAL, and one PLAYMAT! The GNK will be on SALE in the COMING DAYS and will be in the hands of TOURNAMENT ORGANIZERS (this means you!) in MID DECEMBER!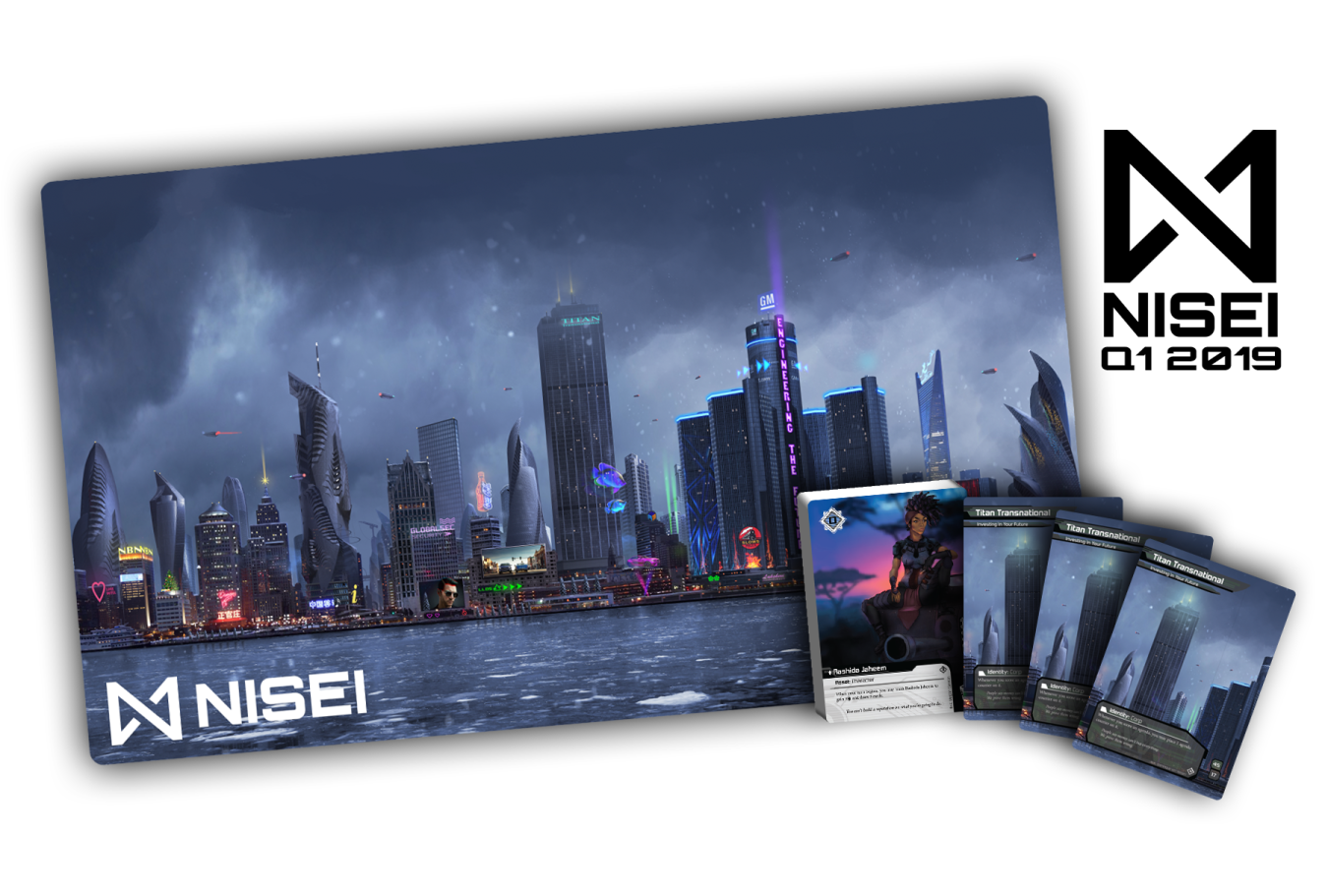 Better yet, ANYONE will be able to order a GNK directly from NISEI for ANY event – anytime, anywhere! No need to go through a STORE, although your FLGS may order a PRIZE KIT as well. THANKS is DUE to KEVIN TAME, MEGAN CANNON, DOMINIQUE VAN VELSEN, and our entire GRAPHICS TEAM who all did a STELLAR job!
On our WEBSITE (coming soon) the aspiring TOURNAMENT ORGANIZER will find KEY RESOURCES like GAME NIGHT IDEAS, printable POSTERS, NAME TAGS, and blank PROXIES, as well as RULES/OP DOCS and the CODE OF CONDUCT. LET US KNOW what else you want to see in FUTURE kits, whether that's PRIZES or EXTRA GOODIES.
At your GAME NIGHT you might want to play FORMATS other than STANDARD… lucky for you, NISEI will be SUPPORTING the following:
ETERNAL contains all NISEI and FFG cards ever printed. A unique MOST WANTED LIST will help bring some JUSTICE to the WILD WEST that is this FORMAT, but don't worry – you can still ENJOY numerous ways to BLAST your opponent after some MIDSEASON REPLACEMENTS.
CORE EXPERIENCE is a CONSTRUCTED format consisting of a single COPY of the most recent CORE SET. This FORMAT is aimed at NEW PLAYERS but provides a consistently ENGAGING and EXCITING experience for veterans.
SNAPSHOT is for OLD-TIMERS who want to play the game EXACTLY as FFG left it, MWL and all. I say get with the TIMES, NEW ROMAN!
DRAFT requires a CUBE or sealed DRAFT PACKS instead of CONSTRUCTED decks and involves DRAFTING decks from those cards. Stay TUNED for revised format RULES, coming soon!
STANDARD is the FLAGSHIP format of NISEI and will be the format played at most ORGANIZED PLAY events. It includes a unique MOST WANTED LIST, the most recent CORE SET, and ROTATION.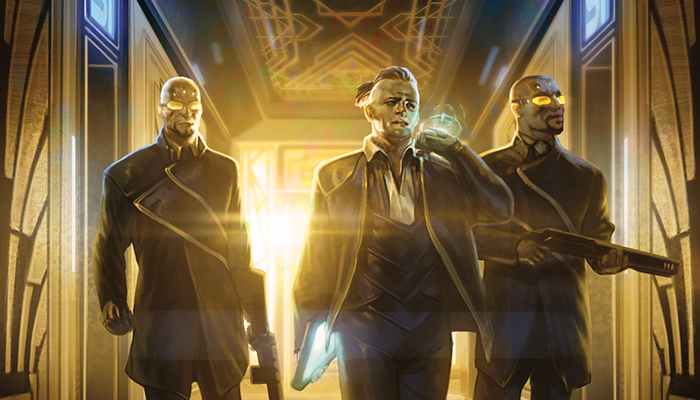 Speaking of the CORE SET, the details of SYSTEM CORE 2019 will be formally ANNOUNCED on 16 NOVEMBER 2018, alongside the MOST WANTED LIST and ROTATION. SYSTEM CORE 2019 paves the way for a NEW SEASON of ORGANIZED PLAY and will SHAKE UP the meta. You'll see the RETURN of some OLD FAVORITES – run with IMPUNITY with DEUS X and BUILD your RIG with AKAMATSU MEM CHIP. Set up QUICKLY with BLUE LEVEL CLEARANCE and teach your opponent a LESSON using your FETAL AI.
The first ROTATION will be SMALLER than usual and is the FIRST STEP in TRIMMING the CARD POOL to a size that is more MANAGEABLE. The BRAVE NEW META we are entering will be EFFECTIVE for the STANDARD format on 21 DECEMBER 2018, just in time for the first GAME NIGHT KITS!
For the ETERNAL format, the MOST WANTED LIST will be EFFECTIVE IMMEDIATELY on 16 NOVEMBER 2018 and you will have the OPPORTUNITY to win some EXCLUSIVE PRIZES while helping us BREAK this FORMAT in our first JINTEKI.NET tournament. DETAILS will be PUBLICIZED on the same DATE.
Also COMING SOON are ANNOUNCEMENTS about some NISEI SWAG, the NISEI WEB SITE, more JINTEKI.NET events, and SPOILERS for STORE CHAMPIONSHIPS and Q2 GAME NIGHT KITS! Slightly further out is NEWS regarding the 2019 WORLD CHAMPIONSHIPS IN EUROPE and the FIRST NISEI-MADE EXPANSION.
Don't forget to STAY EXCITED for the FUTURE of our GAME; its BEST DAYS are still AHEAD. Join us TOMORROW as LEAD DESIGNER GREGORY TONGUE walks us through the REASONS behind a new CORE SET. Until then, CONTINUALLY PERFORM THE BASIC ACTION TO INITIATE A RUN!