On Sunday, April 12 at 10:00am EDT, in conjunction with our partners, ANRblackhats, Inked Playmats, and Broken Egg Games, we will host an OCTGN tournament open to all individuals who have won a bye at a Store Championship this season! There will be a cash prize, a 75%/25% split between 1st place and 2nd place of cash donated by our sponsors, and the viewer base, along with awesome swag from Broken Egg Games, official SSCI playmats for the top 4, and regular giveaways on the stream to the audience. The Valley will be legal for this tournament, so it will test the game's best players ability to quickly adapt to a new metagame and be a lot of fun to watch!
If you've taken down a Store Championship this season, come to Stimhack.com and register yourself for what is slated to be the biggest OCTGN event in history! If you've haven't yet, there's still time left!
Donations can be made at http://stimhack.com/about/.
Sign up today at http://stimhack.com/invitational-form-submission/.
The tournament will be broadcasted on Twitch.tv at www.twitch.tv/stimhacked with commentary by World Champion Dan D'Argenio (mediohxcore) of Stimhack, Dien Tran (D1en) and Chase-Michael Farewell (SlySquid) of ANRblackhats, Jason Flanzer of CorpDraw, and Timmy Wong. The stream will be broadcasted on a delay so that players on stream can not gain an advantage by watching while they are playing.
Because of high interest level of people who have not had many chances to make it to Store Championships, on Saturday, April 4th at 12:00 Noon EDT, we will be hosting a last chance qualifier for the Stimhack Store Champions Invitational on OCTGN. The format will be 5 rounds of swiss with no cut, with the top 4 players qualifying. This tournament will also be streamed at www.twitch.tv/stimhacked, but the Valley will not be legal. Any player who has not won a bye for Regionals this season may participate, and can sign up in the stimhack forums at http://forum.stimhack.com/t/stimhack-store-champions-invitational-last-chance-qualifier/.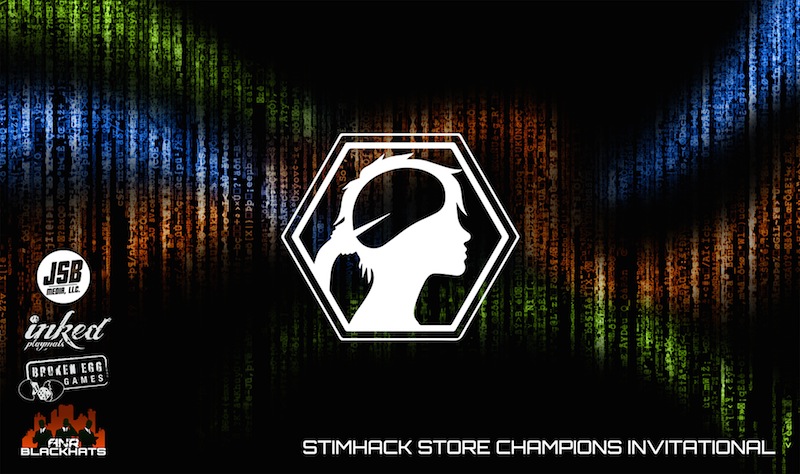 Tournament Rules:
Players who have won a bye at an official FFG Store Championship and players who top 4 the Last Chance Qualifier will be qualified for the tournament.
Players will be required to register and submit decklists to dargenio.dan@gmail.com 24 hours before the start of the tournaments and must play with the same deck for the duration of the tournaments.
The Valley will be legal for the SSCI but not the LCQ.
Rounds will last 75 minutes and will follow FFG's time-out rules. Players will be required to report any time-outs to the tournament organizers.
At the start of each round, we will post pairings, the end time of the round, and the start time of the next round on a forums.stimhack.com thread dedicated to tournament announcements.
The player displayed on the top of the bracket will make an OCTGN game with their opponent's name as the title of the game. The player displayed on the bottom of the bracket will look for their game. The bracket will be powered by challonge.com.
Players may agree to contact one another on Mumble or Skype for voice chat if they believe it will make things run more smoothly in their games. If you think this option is for you, please install and practice using Mumble before the tournament. Information about the OCTGN mumble server can be found at https://boardgamegeek.com/thread/847327/voice-server-mumble.
Spectators should be disallowed for all games. If a game starts with spectators enabled accidentally, we encourage players to continue, asking any spectators to leave the game.
Players will have a five minute grace period for making their game, and an additional five minute grace period for joining their game.
If a player disconnects, it must be reported to the tournament organizer with a screenshot. If the player reconnects within the two minute time limit OCTGN provides, play will resume normally. If they do not, they will forfeit the game they were playing. If it was game one of the match, the still-connected player will remake a game on OCTGN to play game two. Any disconnect not due to connection will be considered a forfeit of the game.
In the event of any rules disputes, we encourage the players to work things out among each other. Because this is considered a premier-level event, take backs need not be allowed, though if no hidden information of any kind is revealed or if the mistake is due to the OCTGN interface, it is encouraged that players DO extend that courtesy to their opponents. If any dispute cannot be worked out by the players, you can take a screenshot and contact the tournament organizers via PM on OCTGN for a ruling.
Match results will be reported by both players through a form on stimhack.com provided at the start of the tournament.
After the swiss rounds, there will be a cut to top 16 where players will play double elimination in accordance with FFG tournament rules.
Top 4 players will receive an official playmat courtesy of Inked Playmats and a Broken Egg Games swag package. There will be a cash prize to 1st and 2nd place, which will start with a pool donated by our sponsors and grow as viewers donate to the stream. 100% of donations will go towards prize support.
Any questions can be directed towards Dan D'Argenio, either by emailing dargenio.dan@gmail.com or by posting or PMing in the stimhack forums.
We are looking forward to an awesome event for both the players and the viewers. A big thank you to everyone who is participating, everyone who is helping to organize the event, and who will watch the tournament broadcast on twitch! This wouldn't have been possible without all of you.
Good luck!