Do you ever have one of those jobs that seems so big, you don't think it'll ever be finished? That's kinda how I felt about this whole recruitment business. Designing a team structure, writing questions, building the survey, staring gobsmacked at the sheer number of applicants before eventually whittingly them down to shortlists, then messaging a few people for extra info, and then making the final selection…
Except now, we're actually almost done* [EDITOR'S NOTE: Still waiting for confirmation of a few stragglers, we'll add them to the end of next week's article or post a mini one midweek]
So without further ado, here are the new recruits!
Community Management Team
Community Team Leader: Josh Swaner (he/him – @Orbital_Tangent)
It's pronounced SWAN, like the bird, with an ER on the end. I am Orbital Tangent on the webs. Started this lovely game halfway through Genesis and began playing competitively during Spin. I play every faction, but my heart is truly with Siphon Criminal and Old Skool NBN FA. My current meta loves are Adam and CtM. Gaming is my life; other than Netrunner I am an avid player and game master of many RPGs. My hope for the NISEI CM team is that we can continue to create content that keeps people informed and drives engagement by being interactive.
Moderation Coordinator: Nicita (she/her)
I've been playing Netrunner since 2014 and I fell in love with its universe and atmosphere so much that I ended up writing my bachelor's thesis about it (and Arkham Horror). I made a lot of friends and even met my husband playing Netrunner, and although I haven't been actively playing much recently, I couldn't just stand by and see the lights go out on the game that gave me so much. Apart from playing board games, I also like video gaming, writing, bead embroidery, opera and theatre, singing and playing the piano and gardening. And cats.
Site Content Creators:
Luke Rule (he/him – @inactivist)
I'm from Sydney, today's most cyberpunk city (neon, gritty, shady corporate interests). Somehow I keep doing things like making Netrunner content or running the ANZ Async Competition because I'm surrounded by extremely cool people who don't have the heart to stop me. I'm fascinated by the idiosyncratic ways different players and metas approach Netrunner, and I'm looking forward to seeing and supporting that with the strange diversity that falls under the RoW OP umbrella. I appreciate dry humor and wet Martinis. Hit me up if you want to talk about Donald Barthelme or Gareth Liddiard, you desperately need to run a GNK on Mawson Station, or you want to argue and lose about using "ICE" instead of "ice".
Sean Duncan (he/him – @scd)
By day, I'm a University professor who teaches about games, game cultures, and game design. I was awfully late to the card game hobby, learning my first constructed deck games in my early forties, then quickly falling head over heels for Netrunner, its world, and its community. From early decks like Stimshop Chaos Theory and GRNDL Supermodernism to recent joys like Apocalypse Kim and Brainstorm Mti, I love to explore Netrunner in its myriad shapes and weirdest forms. I blog at http://soybeefta.co, I make acrylic, laser-etched tokens and IDs, and I'm slowly working on an academic book about the game (see http://se4n.org/book-project). As Site Content Dude for NISEI, I look forward to many more years of thinking out loud about this evolving game, engaging with its diverse and amazing community, and, of course, playing until the cards are finally pried from my cold, dead hands.
Lead Web Developer: Mike Prosser (he/him – @Mike.P)
Heya, I'm @Mike.P (previously @leachrode) on Stimslack and I'll be heading up web development work for NISEI, with my #1 priority being getting the website up and running according to RC's masterplan as soon as possible. I've been playing Netrunner since SanSan and started out as a jankster before almost immediately catching the tournament bug and becoming obsessed with trying to optimise decks to perfection since with varying degrees of success. The #1 thing that keeps me coming back to the game above any other is how caring and kind the community is and I'd like to do anything I can to help keep that going from strength to strength.
Content Producer Coordinator: Michael Papadopoulos (he/him – @manveruppd)
I first got into Netrunner during Lunar. It was my first lifestyle card game, though I've played tabletop wargames and competitive online games. I own cryoffrustration.wordpress.com where I've been making inaccurate meta predictions for the past couple years. I'll be chairing NISEI's MWL committee, relying on TOs to send me tournament results, and I'm also the Content Provider Coordinator, so any bloggers, podcasters, etc. looking to cover any aspect of NISEI's work, future releases, or the state of Netrunner in general, please hit me up! I can be reached @cryofrustration on Twitter, @manveruppd on Stimslack, or at cryoffrustration [at] gmail [dot] com.
Creative Team
Graphic Designer: Izzy Iqbal (they/them – @IzzyIqbal)
I live in the Bay Area, California. I've been playing mainly Cybernetics Division since its release (woo Oaktown!) and I teeter between various off-meta Criminal and Shaper ID's (Nasir and Los are some of my favorites). I love competitive games in general, and also enjoy playing games like Overwatch, Street Fighter, and Battlerite
Worldbuilding Editor: Iain Fairclough (he/him – @Dis)
Hello! I'm Iain and I live in the arse end of Scotland – the part that resembles the Argus ID, not the pretty part. If you'd told me five years ago that there was a children's card game that I'd drive 12 hours to play I'd have politely laughed. But A:NR is just that damn good as a game, as a community, and as a creative work. I love the depth of meaning in the card names and will happily bore people for hours about Brahman. It's that standard of resonance between the cards and fluff that I hope to help maintain as editor. Online I'm Dis everywhere…until that KeyForge infringement suit hits.
Worldbuilding Writer: Calvin Wong (he/him)
Hi I'm Calvin, I prefer to be called Calvin. I'm Shaper/Weyland for life, I love jank and off-the-wall stuff, and I think Netrunner is the best thing that's ever happened to board gaming. I'm here to write the fiction and possibly edit the fiction.
Design Team
Associate Designers:
Max Chippington Derrick (he/him – @Quarg)
I'm Max Chippington Derrick aka @Quarg on Stimslack, twitter, reddit etc. I'm a computer scientist fresh out of university, part of the UK's notorious Aldershot Meta, and an honourary Dave. I started playing the game shortly before Order and Chaos dropped, and quickly fell in love with the intricate gameplay. At heart I'm a Weyland and Shaper player, but Jinteki Glacier provides such shapery nonsense that I simply can't resist it. I'm looking forward to exploring some of the lesser known parts of each faction's colour-pie, and creating weird and wonderful new cards for competitive play, janky deckbuilding, and everywhere in-between… Hopefully without having to give anyone any rules headaches!
McGregor Crowley (he/him – @ArcV2)
I love all games, especially trading card games; I've felt this way for as long as I can remember. I have been in love with Netrunner since I first played my friend's copy around the release of Order and Chaos. Game design is one of my passions and getting to joining the NISEI design team is a great honor. I can't wait to start cooking up some sweet new stuff.
Development Team
Associate Developers:
Ben White (they/them – @Anzekay)
I'm a Game and Narrative Designer turned Computer Science student from Perth, Western Australia. Sydney is Australia's cyberpunk central, but we're more like Gagarin (a railgun, mining money). I was first introduced to Netrunner at the very first PAX Australia, where one of my friends raved about how good it was, and after trying it for myself I was irrevocably hooked by the game's incredible fusion of theme and mechanic. After just a single night playing at my local store, I bought up every card released at the time and haven't looked back since. I've been entranced by the game's asynchronous nature, and the sheer unrivaled strength of its theme and diversity. Game preservation, keeping the dying games from ever vanishing, has always been important to me so I'm delighted to be able to help keep Netrunner alive for a good while longer.
Panagiotis Zinovadis (he/him – @ZiNOS)
Started the game from the Core set and never stopped admiring the perfection of the design. Mechanical engineer by trade, will try to transform the vision of the designs to balanced and fun cards. Avid board and card gamer, have done development work for other games before, and love cooking as much as I love gaming. For the last 3 years, due to new family members, free time is limited but the only game getting continuous play is AnR. The chance to help keep the best card game ever alive gives me a warm feeling inside. ZiNOS in all media and on BGG.
Playtest Coordinator/MWL Liaison: Chris Dyer (he/him – @Nemamiah)
Chris is based in the UK and picked up Netrunner as soon as the core set came out, and has been hooked ever since. He's done pretty well at some tournaments but doesn't like to bring that up. Netrunner is the latest obsession in a 15 year history of over a dozen card games, any of which he'll be glad to bore you about if you ask. Chris also enjoys board games, role-playing games and other hobbies that keep him out of the sunlight. Outside of gaming Chris likes hippos and Zelda, and he dislikes degeneracy and talking about himself in the third person.
EDI Team
EDI Support:
Russell Mortishire-Smith (he/him – @tolaasin)
I'm tolaasin – Russell in real life, occasionally known as Russ, but never Rusty (pls), based in the UK. I'm the EDIT support person for @shanodin – EDIT Lead. I've been playing netrunner for 3 years, my main claim to fame is that I was the oldest player at Worlds this year! I'm also a stimhack.com and Stimhack Slack moderator. The Netrunner community has literally changed my life, in opening my eyes to a world of challenges and issues that I simply hadn't been exposed to before, so I'm delighted to have been given the opportunity to keep the community going, and make it even better.
EDI Assistants:
Tom Bowers (he/him, @fancywookie)
I got into Netrunner in 2015 and was infatuated with the game from the start, I love intelligent sci-fi and cyberpunk so the themes really drew me in. A few other local folks got into the game around the same time in Cardiff and we built a cosy local meta of around 20 players at its peak. My favourite decks are Noise and any kind of jammy HB. I'm a middling player but the community has always been the most important part of the game for me and that's what I most want to see continuing and being a welcoming place for others. In addition to NISEI's EDI Team I am on the admin team for Mental Health Clinic.
Reina Roja (he/him – @Reina)
I'm hoping to be a strong point in the community, especially for new players, as well as pursue the goals of the EDI team under Alice. I primarily play Netrunner in my local city of Melbourne! I love showing new folk the game, and just this Monday I taught two players who'd bought in how to play the game, which was a fun time for all. I hope to serve both the community and my Ideals through Netrunner! Always be running, folks.
Jo Hargreaves (they/them – @Tamijo)
My name is Jo, or Tamijo (pronounced with a "yo" at the end) depending on where you know me from. I've not been playing Netrunner for very long, starting sometime in January or February 2018. I have played Levy at every event I've been to, and that's a pretty accurate description of me. I love asking if your money is safe, and having a HQ larger than my R&D. (Or did, at least.) I'll be assisting with anything and everything the EDI Team needs, which should be everything and anything you need.
Jean (she/her – @Medea)
Hi!  I'm Jean, EDIT assistant. I'm an autistic trans lesbian and Netrunner is one of my special interests. Coping with my disabilities is a full time job, but in my free time I play games, read, make music, draw, and write. I started playing Netrunner in the SanSan cycle and learned from Ve, who was my partner at the time. Card games never really interested me before but the Android universe really got my attention and the game turned out to be one of the best I've ever played.
Johnny Bea (he/him – @Johnny)
Hi I'm Johnny Bea, I've been playing Netrunner since the first cycle, and have been a Jinteki fan forever. I love this community, made some amazing friends, and want to help further continue this amazing game, lore, and community. Also, Kit is my favourite runner and always will be. I'm Pansexual, one of the admins for the ANR Mental Health Clinic, very big on mental health and personal wellbeing. I love Silent Hill, Evangelion, Rats, DJing, Cardistry, and meeting new people, so please message me one day and say hi 🙂
Laury Plant (he/him – @Caknuckleguy)
In his spare time, Laury doesn't exist. Spare time is a fiction that he pretends might exist at some point. All other points in time are filled with a constant stream of life that involves, but is not limited to, his partner Amber, their two pets Squee (cat) and Tycho (dog), far too many board games to fit on their limited shelf space, a long history doing professional (and amateur) football statistics (CFL rules, NFL drools), pretending he'll have time to practice HEMA again, surviving these Canadian winters with a shrug, occasionally longing to fly gliders again, and a whole host of random shenanigans. Oh, and Netrunner. From Core 1.0, or ONR if you need to gawk at irrelevant geek cred which doesn't matter. I GOT A ROCK!
Organised Play Team
Jinteki.Net Coordinator: Akira (she/her – @Blue Haired Hacker Girl)
Chances are if you've played Netrunner in the UK you've heard of her. No stranger to running events, Aki was UK Marshall alongside coop until she took a break from Netrunner in 2016, declining to return to the judge scene to play. she reminded people judges can play by taking a regional win and a top 32 spot at nats. When not running events (her day job) for a local café she enjoys making too many references to stupid memes, playing puzzle games, watching anime, and referring to herself in the 3rd person.
MWL Chairperson: Michael Papadopoulos (he/him – @manveruppd)
(see Content Producer Coordinator, above)
MWL Committee Members:
Tom Keaten (he/him – @Venali)
Literally everyone spells my last name with an -on, since it's what all the famous people have.  I go by Venali or Neksol in my various gaming accounts. I picked up Netrunner around Christmas of 2012 on a whim and haven't put it down since.  I wasn't very competitive in the beginning and didn't get around to many of the earlier tournaments, but the Plugged In tour pulled me in hard. Shaper bullshit is my home, but I'll play anything that appeals to the Johnny in me.  I'm a gamer from Netrunner to Dota2 to Terra Mystica to Final Fantasy.
Chris Wionzek (he/him – @Dragoonkin)
Hi, I'm maybe the guy you know for poker chips. Or funny nametags at Worlds. Been in Netrunner seriously since the start of the SanSan Cycle after I bought a core set, played it a bit, and went "I have to decide to be in this all the way if I want to play it, huh?" I make stuff, stream our local events amateurishly, and sport my Emil (or "creepy moon") avatar all the time. I'm going to be working on the MWL, and telling Anarchs that no they can't have literally everything. I'm into games of all sorts, and am still a recovering 40K player. I'm also real bad at writing bios
Chris Dyer (he/him – @Nemamiah)
(see Playtest Coordinator/MWL Liaison, above)
OP Coordinator (Europe): Michał Dziewoński (he/him – @Vesper)
I consider gaming a big chunk of my life. With A:NR since day 1 as a Weyland/Shaper fan, even if they were not optimal at times. I enjoy ice cream, Mexican food, hiking, sci-fi/cyberpunk, and listening to or making music. I'm also a big fan of "making things happen" with or for people who are enthusiastic about said "things". If that happens to be around a game I really enjoy (regardless of my own skill level), the more excited and dedicated to the idea of more organized Netrunner with all of you I am! Let's do it 😀
OP Coordinator (North America): Daine Stevens (he/him – @Daine)
My name is Daine Stevens. I started playing 2 packs into the Genesis cycle. My first love was Replicating Perfection but I cooled on it when they printed Caprice (may she rot). I'm a Shaper at heart and still miss my Congress deck. My name everywhere is Daine or dainestevens, though I'm generally not active on Slack (I prefer the Chicagoland netrunner discord).
OP Coordinator (Rest of World): Luke Rule (he/him – @Inactivist)
(see Site Content Creators above)
Rules Team
Assistant Rules Manager: Jamie Perconti (they/them)
I started playing Netrunner right around the Plugged-in Tour in 2013 and quickly wound up judging weekly tournaments at my local store. I became a playtester beginning with the SanSan Cycle, and contributed to most sets from there until the end of FFG's run of the game. After having a bunch of twitter discussions with Jacob Morris, he invited me to join the ANCUR project in early 2016, just in time to work on the first UFAQs. We've become a really close team (we've found some esoteric rule to argue about for just about every release!) and I'm very happy we're continuing to work together at NISEI.
Call me: Jamie, nut, or InfiniteNutshell
Rules Editor: Kayli (she/her – @mentalsmanager)
I was introduced to the wondrous world of modern gaming about seven years ago, and since then I've gone in hard! I currently manage a friendly local game store, freelance edit role-playing games, and play a wide variety of games. I was introduced to Android: Netrunner around the release of Creation and Control, and it rapidly became an obsession. About a year and a half ago, my now-husband proposed using a homemade HB Agenda: Project Unity – that's how much we love this game! Despite this, I'm quite shy, so it's taken me a long time to move beyond my local group; I played in my first Store Championship about a year ago, and I've only played on Jinteki.net with people I know IRL. I did, however, attend Magnum Opus this year for the first time – you might have seen me there as Sunny Lebeau, my all-time favorite runner! I'm incredibly grateful to the folks who put NISEI together to help this game survive, and I'm excited to be a part of that. I can't wait to see where NISEI takes us!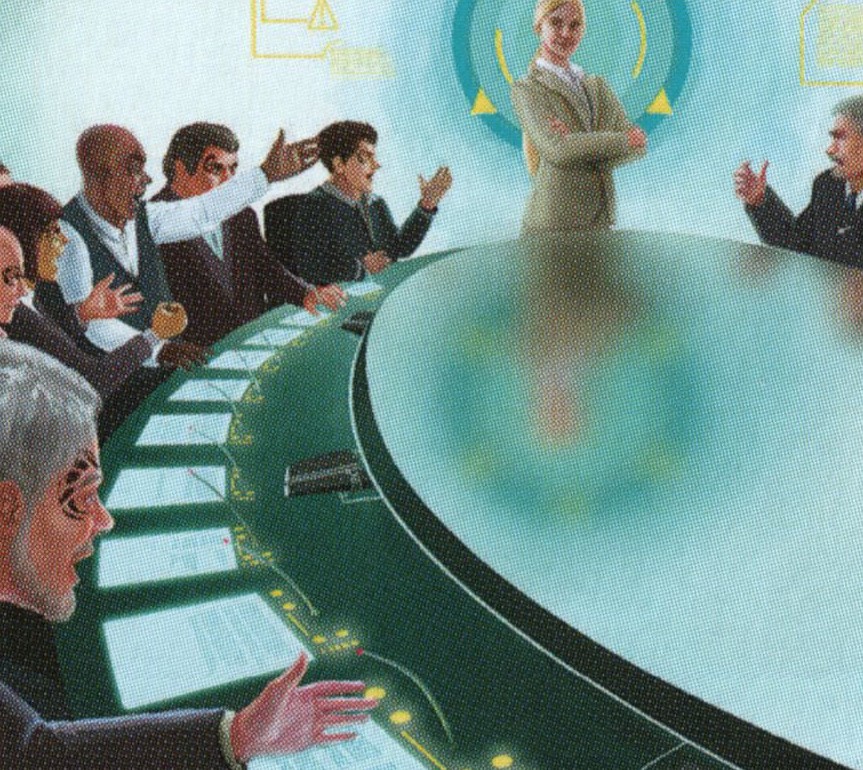 Time for some Other Business!
So, you wanna be a playtester?
Which this month seems to be more recruitment… seriously?
* listens on earpiece *
So yeah, apparently we're serious! David is now ready to start recruiting playtesters for all the wonderful stuff we've got in the pipeline. If you are interested in volunteering your time and services, please sign up using this form if you want to be a playtester.
Where in the World is Carm… I mean will ANR events be?
Austin would like to know what kind of interest we have in OP2019, so if you intent to run events (not just TO them, but actually be the Billy Big Potato) please complete this form.
Q&A
I'm pretty sure you know the drill by now. You can anonymously submit questions and they'll be answered publicly here.
And with that, I'm out of here for another week. Next week is our second Community Champion announcement, feel free to guess who it will be! There are cookies** for anyone who guesses correctly! Until then, ALWAYS BE RUNNING!!!!!!!!1112
* At least with the first wave.
** There are no cookies. I lied.