(Editor's Note: This article was submitted by David Saiya [@rotage])
Introduction
---
For some of you the mere mention of the word Dyper will get your pulse racing, blood boiling, and the urge to hit your head against the wall will become almost impossible to resist. Others will be asking "Why would what a baby wears cause such anger in someone?" If you are in the latter category then all will be explained. However even if you are in the former category don't despair. This article will not only explain Dyper but will also help you combat it and hopefully triumph against it.
If you are lazy or short of time then just skip the remainder of this article and read the last sentence.
So what is Dyper? Put simply it is a Shaper deck which utilizes a lot of clicks on one turn thanks to Hyperdriver and Leprechaun (to host the Hyperdrivers). With all these clicks the plan is to Keyhole the Corporation as many times as possible and in the process trash seven points worth of agendas to win the game. But, I hear you ask, how can you run that many times and keep breaking the R&D Ice without running out of money? Well, that is where the combo of DDOS and False Echo comes in.
When you use the trash ability of DDOS it prevents the Corp from rezzing the outermost piece of Ice on any server; this would work fine for Dyper's plan except that the Corp can (and often will) install more than one piece of Ice on R&D. So for this plan to work we need a way to stop them rezzing the additional Ice on R&D. At this point we thank an older card called False Echo which had not seen much play until DDOS emerged onto the scene. When False Echo bounces the outermost Ice, DDOS remains in effect on the next Ice in line, with multiple False Echos and Clone Chips installed you can bounce up to six pieces of Ice from R&D to the Corp's HQ, meaning they need a tall order of eight pieces of Ice on R&D to stop you.
Deck Composition
---
The core of the deck is always the same. It will be played in Shaper as it needs Hyperdrivers as well as the memory to install them, and Shapers can have both of these influence-free. Leprechaun can host two programs and ignore their MU cost, so the 1MU of Leprechaun can host up to 6MU of programs which is excellent value. However there are other variants of Dyper and these are discussed below.
Original Dyper
This is my first Dyper deck, which I played from September 2015 to November 2015.
(Note: This deck was pre-MWL and is no longer legal. If you wanted to run it for nostalgia reasons then I would suggest dropping the Eden Shard and DDOS)
The deck used a combination of Medium and Demolition Run to access multiple cards in R&D. It had some major weaknesses, primarily Cyberdex Virus Suite which was a very common card at the time. This caused the deck to fall out of favour very quickly. However with Keyhole rotating and Medium being a Core Set card, a variation on this may appear post-rotation.
Classic Dyper
This is the most common type of Dyper deck and versions of it started to see play in December 2015. It still sees a lot of play today.
This version uses Keyhole either on its own or in combination of Medium or, more commonly, Turning Wheel. The Atman is to be used if Ice becomes rezzed, and can be combined with Escher to move to ensure only unrezzed Ice remains on R&D. With Turning Wheel you gain counters on Keyhole runs, and if it looks like you won't win with Keyhole alone you can use these counters to run either HQ or R&D for multiaccess, depending on where you think the agendas are.
New Dyper
This version of Dyper has been less common than the 'Classic' variant. I have played it since May 2016.
This version can use either DDOS or Apocalypse to make R&D accessible for multiple Keyhole runs. The route it will choose will depend on a combination of:
The cards it has in its grip and on Bookmark when it is going to have the "combo turn".
How many unknown remote servers there are.
How much Ice (rezzed and unrezzed) there is on R&D.
If there is a possible agenda in a scoring remote.
Is It Dyper?
---
So you have sat down opposite your opponent and you are not sure if they are playing Dyper or not, these are the signs you need to look for:
Are they playing Hayley or Kate? If not then chances are they are not. Other IDs either lack influence (Kit, Professor) or don't provide a benefit (Jesminder, Smoke, Chaos Theory). Exile does provide a small draw benefit but unless more cards are released to help this further I do not see a Dyper deck in Exile any time soon.
What cards do they initially install? The lists can vary slightly from the ones above but the influence spent does not vary much, so if they install a Temujin Contracts for example you can assume they are unlikely to be on Dyper. Also if they install Ice breakers then this also implies they are not on Dyper. However if they install a Leprechaun, this is a very strong indication. The biggest single card indicator is a Hyperdriver, but be aware this is often used in either Apocalypse Kate decks or used to gain tempo using Professional Contacts or Magnum Opus.
Do they make runs early? If they run early against R&D Ice this indicates they are not on Dyper, as allowing you to rez Ice prevents DDOS from working. However if they run HQ, Archives or your remote servers do not assume they are not on Dyper. They may be doing this to steal early agendas, make you pay money to rez Ice elsewhere, or slowing you down by trashing key assets or upgrades.
Strategies Against Dyper
---
There are four main approaches to beating Dyper and the strategy you will deploy will depend upon the deck you are playing. The strategies are as follows:
Score agendas before it is able to have the combo turn.
Disrupt Dyper so that its combo turn is delayed, allowing you time to win the game.
Prevent Dyper from having a big a turn.
Flatline Dyper.
General Strategies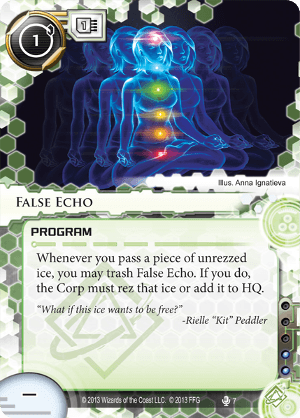 Always get at least one Ice on R&D as soon as possible –

without this they can start using Keyhole without the need for DDOS and either steal some early agendas or trash Ice from R&D.

If you can rez Ice outside runs, do so whenever possible –

Rezzed Ice on R&D can often stop Dyper in their tracks but always try to factor in if they have an Apocalypse version or not. If they just have Escher and maybe a breaker then you should not install too much Ice. The reason for this is that if there is more unrezzed Ice on the table then rezzed Ice then they might be able to Escher the Ice and still be able to use DDOS and False Echo to clear all the R&D Ice.

Get clickless economy set up ASAP –

If you have any asset based economy such as PAD Campaign, Adonis Campaign etc you should try to get this online as soon as you see it. Any time spent clicking for credits is slowing you down. Dyper decks are generally poor and will not have time or money to trash your assets.

Put any upgrades you don't need onto R&D –

Even if they serve no purpose there, the Dyper player has to respect them and will assume they could be a Caprice, Crisium Grid, or other threat that they either need tech or economy to trash. his could buy you an extra turn or two while they look for their solution.

If you have an asset spam deck use this to your advantage –

If the Dyper player is checking every remote then this will be wasting a lot of their clicks and denying them set up time, if they are not checking then you can use this to sneak out 3/2 or 2/1 agendas.

Win unexpectedly –

Dyper will usually have its combo turn when either a) The Corp can potentially win the game or b) They are completely setup. One thing that people sometimes assume after losing to Dyper is 'that game was close, I was one turn away from winning'. It is actually quite possible that it was not as close as you imagine and the Dyper playing was waiting for you to be one turn from winning before having the combo turn. If there is a way the Corp can win the game without the Dyper player realising this then this can be a great ploy as they will not have the combo turn. This can be achieved in a variety of ways including (but not limited to):

Having a 3/2 agenda just on the table for a few turns without scoring it.
Being on 4 agenda points and Fast Advancing a 5/3 agenda from hand.

Ice Placement –

Regular Dyper will not let you rez Ice therefore the specific Ice you place is kinda irrelevant, as they can not risk you letting you rez any Ice anyway. So just place whatever Ice you have on R&D. They may attempt to run the scoring remote so you should put some ETR Ice here to prevent them stealing early agendas. If you suspect Apocalypse then get some taxing Ice on R&D, but don't worry too much about this, as they are able to draw a lot of cards and can often break most Ice regardless. Combinations like Data Raven into Data Ward or just taxing Ice like Wraparound, Architect, Little Engine and Tour Guide are good choices.
Specific Corporation Strategies
Below are specific strategies for the different corporations, these will assume standard decks.
Haas-Bioroid:

Engineering the Future (EtF) (Rushy / Foodcoats) –

EtF is a Jack-of-all-trades deck when playing Dyper – it is capable of trying to outrace Dyper, but without 2/1 agendas or Astroscript it is not as fast as NBN. It can also rez Ice outside of a run with Accelerated Beta Test (ABT) but it is not as reliable as Weyland who has Oversight AI and Executive Bootcamp. The main goal for EtF is to use its multiple different tools to its advantage. It should ice up R&D as early as possible, create a basic scoring remote of one or two Ice, and then start scoring from the remote. Don't be afraid to score 4/2s or 5/3s – at most they will only have 2 DDOS in their deck so they will be reluctant to use these on the remote. This is a key point, as they can only afford to use DDOS once on the remote and using this on an unadvanced card would be a brave decision. Having two Ice on the remote would force them to also use a False Echo which will deter them. Firing ABTs is always to be recommended, however there needs to be some caution: if you get a misfire and give the Dyper player even one agenda it means that not only do they need fewer agendas to win, it is one fewer agenda for you to rush. Ideally you should have a Jackson Howard, Friends in High Places or another tool to enable you to get Agendas back from Archives if necessary: this can mean advancing the ABT first to give you the extra click at the end of your next turn to use these cards. If you don't have a recursion card then possibly put some Ice on Archives as this will hopefully give you some time to find the recursion you need.

Cerebral Imaging (CI7) –

This is a very tough matchup which has been made even harder with Equivocation. Dyper players will tend to only run on their combo turn which means you cannot use Power Shutdown (essential to the combo used by this deck to win). To get around this you have to force the Dyper player to make runs before their combo turn. This can be achieved by scoring agendas and getting to match point, thereby forcing the Dyper player to run and do their combo turn before they are ready.

Jinteki:

Palana Foods –

This is quite a tricky matchup. In the past with Caprice Nisei it was possible to to keep R&D relatively safe and force the Dyper player to win the Psi game before they could begin Keyholing. However, with the release of Rumor Mill, this strategy no longer works as well as it did. Your best strategy is now to try to rush out as fast as possible, ideally scoring a Corporate Sales Team early to provide additional economy and score some Nisei MK2s as the tokens can be used to deny them clicks on the combo turn.

IG49 –

This deck has the strongest Dyper matchup. Dyper has no method to reduce the trash cost of cards such as Scrubber, Bad Publicity or Whizzard Credits. It has no way to counter the net damage such as Feedback Filter, I've Had Worse or Levy. It does not have a strong enough economy to trash the cards installed. And finally, although it does possess Clone Chip, it can not recur non-program cards. This deck has agendas which have a cost to steal such as Fetal AI and The Future Perfect which makes the combo turn (if they ever get one) that much harder. To beat Dyper you just want to play your normal game, however if they have Bookmark then going for the one turn kill will prove harder. What you can do is rez Bioethics and start hitting them with net damage – they will be forced to deal with this which will cost both time and money. You will also want a Hostile Infrastructure installed, as this will prevent them from either Keyholing or using Apocalypse without suffering damage.

Potential Unleashed (PU) –

This has a strong ability against Dyper as unlike regular net damage decks where Dyper can either install key cards in advance or host them on Bookmark, PU can mill cards from the stack which the player has no control over. However, most of the net damage cards in PU require successful runs – the one exception to this being Bioethics which they will need to trash. This will then allow you to start using your other net damage cards. If you have Best Defense you can use it to trash key cards such as Bookmark, Fansite or Artist Colony. However unlike IG you have fewer must-trash cards such as Sensie Actors Union or Ronin, and without IG's ability to increase the trash cost it is easier for Dyper to control the board state, and you will therefore need to rush where possible.

NBN:

One core strategy which applies to most NBN decks is to use Breaking News to get the Dyper player tagged. You can then use these tags to either:

Play Closed Accounts if they have more than 5 credits.
Trash key resources such as Fansite, fully loaded Daily Casts, Artist Colony, and DDOS.
If you have Best Defense you can trash Leprechaun and Hyperdriver.

CtM –

The key here is Sensie Actors Union and Commercial Bankers Group. You should look to mulligan to get a Sensie in your opening hand as the game will often come down to how quickly you can get a Sensie online. Once you get a Sensie online you can look to get some asset economy online too and then use SanSan City Grid to score agendas as fast as possible. With Data Raven + Data Ward and Tollbooth you can create a very taxing R&D for the Apocalypse Dyper decks to deal with.

NEH (Russian) –

Put some Ice on R&D and then spam out assets as normal, they cannot check all the assets nor have the money to trash all the SanSans and Jeeves, so with these you can fast advance out fairly easily.

NEH/Sync Kill (24/7) –

This is is slightly trickier than the other NBN matchups due to Dyper having New Angeles City Hall (NACH) and, in the case of the Apocalypse Dyper, Bookmark too. One plan is to kill them before they get NACH, once they have NACH you can either look to rush our agendas and win that way or bait them into stealing an Agenda: neither version runs more than one NACH and has no way to recur it. If they don't take the bait then simply keep scoring agendas until they do. Bookmark will need to be killed with Best Defense however if they have multiple Bookmarks or Sacrificial Construct installed then simply rushing is your best plan.

Weyland

Blue Sun –

There are two ways to play this. The first is to try and rush against Dyper – if they steal an agenda use Midseason Replacements to tag and murder them. The second approach is to use cards like Oversight AI and Executive Boot Camp to rez Ice outside of the run. Against Apocalypse Dyper this is tougher as they can break the Ice, although Ice like Curtain Wall can be very taxing for their deck to break (7 cards to break with Faust).

Argus –

This is an incredibly tough match up, due to the fact that the Dyper will attempt to steal all the agendas in one turn making your ID ability useless. All you can do is attempt to rush as fast as possible and hope you are able to score out before Dyper is ready to perform its combo turn, however in my experience this tends not to happen.

Gagarin 54 Card –

The key to this match is having EBC and Tour Guide. Tour Guide is an incredibly taxing piece of Ice to deal with. You ideally want one of these rezzed on both R&D and HQ and no other unrezzed Ice so they cannot Escher them around. Against the regular Dyper with no breakers this will be enough, however for Apocalypse Dyper they can break the Ice once and then Apocalypse it. However, apart from this there is not much else you can do, your Assets will not disrupt Dyper so they do not need to run until their combo turn and it is hard to rush Dyper. You should still look to score agendas and force them to perform the combo turn early as if they are allowed to draw their entire deck they will probably win as they will end up with enough cards for Faust and money for a backup Chameleon.
Final Thoughts
---
I hope you found this article useful and that it will aid you in defeating the evil Dyper decks that are out there. With new cards constantly being released the tactics can and will change.
The quickest and easiest way to beat Dyper is to just play IG49.